Donald Trump will receive a guard of honour when he meets the Queen at Windsor Castle.
Buckingham Palace has confirmed further details about the US president's meeting with the monarch ahead of Mr Trump arriving in the UK on Thursday.
The Queen will meet Mr Trump and first lady Melania Trump at the dais in the quadrangle of the historic royal residence on Friday.
A guard of honour, comprised of the Coldstream Guards, will give a royal salute and the Star-Spangled Banner will also be played.
Mr Trump and the Queen will then inspect the guard of honour and watch the soldiers march past.
The US president and first lady will then join the Queen for tea at the Berkshire castle.
:: 'War-zone' hospitals, 'lousy' locations and radical terror: Trump's controversial UK comments
Mr Trump will be the fourth US president the Queen has received at Windsor Castle since the 1980s, following Barack Obama (2016), George W Bush (2008) and Ronald Reagan (1982).
The US president's working visit is set to be met with widespread protests across the UK, with police launching one of their biggest ever operations to maintain order.
Almost every force in England and Wales has provided officers to help with the huge mobilisation, which is the biggest since the 2011 riots.
:: Why I started blimp campaign against 'tyrant' Trump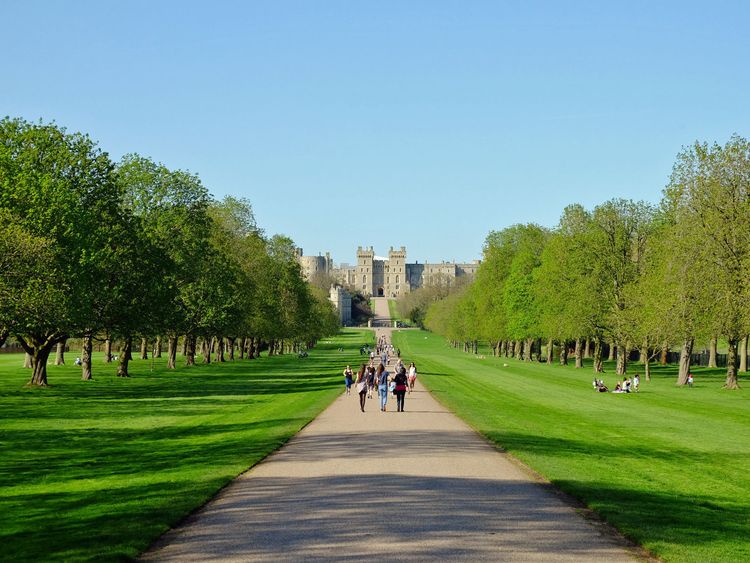 :: Protesters wasting their time: Why I can't wait for Trump's UK visit
As well as meeting the Queen, Mr Trump is due to hold talks with Prime Minister Theresa May at her country retreat of Chequers.
More from Donald Trump
Ahead of his trip, the president waded in to the chaos engulfing British politics, saying that the UK is in "turmoil".
Following his talks with Mrs May, the president will spend the rest of the weekend in Scotland – where he owns two golf courses.