Budget 2017: Stagnant earnings forecast 'astonishing'
Media playback is unsupported on your device
The prediction that average UK earnings in 2022 could ..
---
The prediction that average UK earnings in 2022 could still be less than in 2008 is "astonishing", according to an independent economic think tank.
Paul Johnson, director of the Institute for Fiscal Studies, added that the economic forecasts published in the Budget made for "pretty grim reading".
He highlighted that since 2014 growth in earnings has been "choked off".
"We are in danger of losing not just one but getting on for two decades of earnings growth," he said.
"Let's hope this forecast turns out to be too pessimistic."
Mr Johnson was reacting to the productivity, earnings and economic growth forecasts from the Office for Budget Responsibility (OBR), which were released on Wednesday.
The Chancellor, Philip Hammond, has said he hopes to prove the bleak economic forecasts released in the Budget wrong.
The chancellor said clarity around Brexit would increase consumer confidence and lead to higher growth in the economy.
Analysis: Kamal Ahmed, BBC Economics Editor
What is the point of capitalism?
That might seem like a pretty big question, but one answer could be "to provide people the opportunity through work to become richer".
What, though, if the economy fails in that endeavour?
If the system leaves you – despite all your efforts – worse off in December than you were the previous January?
Or worse off now than you were a decade ago?
It was Lord Adair Turner, the former head of the Low Pay Commission, who put it succinctly.
"The UK over the last 10 years has created a lot of jobs, but today real wages are below where they were in 2007," he told me earlier this year.
"That is not the capitalist system delivering its promise that over a decade or so it will raise all boats, and it is a very fundamental issue."
On Wednesday, the OBR cut its growth forecast for the UK economy sharply, following changes to estimates of productivity and business investment.
It now expects the economy to grow by 1.5% this year, down from its previous forecast of 2%. It also said growth would be weaker than previously thought in each of the subsequent four years.
Shadow chancellor John McDonnell said the hit to the economy would "hit all of society".
He said more government intervention and extra spending would "pay for itself" and alleviate the UK's productivity problem.
Also on Thursday, another think tank, the Resolution Foundation, said that disposable incomes are now expected to be £540 lower by 2023 than forecast in March, largely as a result of weaker pay growth.
The Foundation said that the UK is on course for its longest fall in living standards since records began more than 60 years ago, with real disposable incomes now set to fall for 19 successive quarters.
Despite high levels of employment in the UK, wage growth has remained stubbornly low.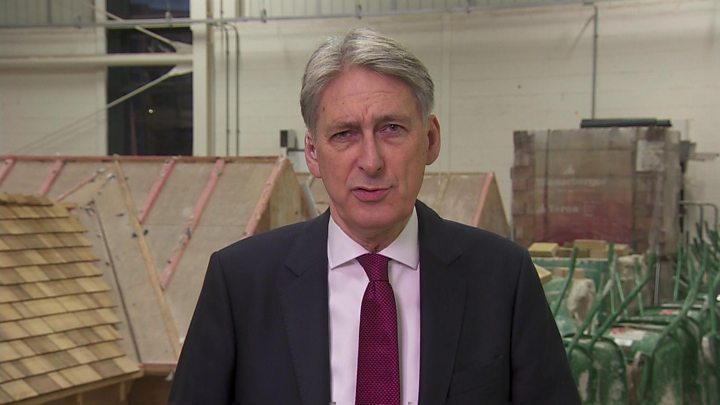 The latest official figures showed workers' earnings, excluding bonuses, rose 2.2% in the three months to September compared with a year ago.
But they fell 0.5% in real terms when accounting for inflation, marking seven months of negative pay growth, according to the Office for National Statistics.
The lower forecasts for growth are also jeopardising the government's plan to balance the books by the mid 2020s.
The IFS said it was highly unlikely Mr Hammond will meet that target.
"To get there we would have to have another round of spending cuts," IFS director Paul Johnson told the BBC. "Given how hard it has been to get where we are, I think that is going to be pretty tough."