UK on ice alert as cold weather sweeps in
Britain is braced for an Arctic blast that will bring the risk of snow and ice to large parts of the..
---
Britain is braced for an Arctic blast that will bring the risk of snow and ice to large parts of the country this weekend.
Temperatures are set to plummet to below freezing in places overnight, with up to 5cm of snow predicted in some areas above 300 metres.
Severe weather warnings for ice have been issued for Northern Ireland, Wales, parts of Scotland, northern England and the West Midlands from 5pm on Friday until 10am on Saturday.
The Met Office said icy patches are likely to form on untreated roads, pavements and cycle paths and there is "potential for slippery surfaces and difficult driving conditions".
Sky News weather presenter Kirsty McCabe said: "Cold air from the Arctic will bring a risk of ice and snow to parts of the UK and Ireland this weekend.
"While we will all need to wrap up warm, don't get ready to build your snowman just yet.
"During Friday a mix of rain, sleet and snow showers will affect northern and western Scotland, Northern Ireland, western Ireland, northwest England and Wales.
"The rest of the weekend is set to be cold but bright with further wintry showers in areas exposed to the brisk northwesterly wind.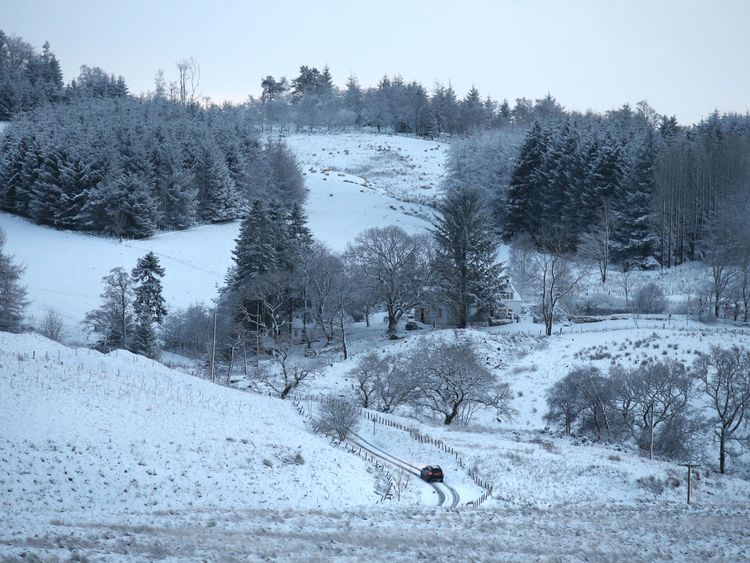 "Overnight frost and ice will continue to affect many, with snow mainly confined to higher ground."
Public Health England has urged people to be prepared ahead of the cold weather, with very young children, older people and those with conditions such as heart and lung disease most at risk.
Bookies have slashed the odds on the UK seeing a white Christmas this year, with one bookmaker offering odds of 4-5 on snow falling anywhere in the country on 25 December.
Kirsty McCabe said most of the UK's snow days happen between January and March, with sleet or snow falling on average 7.6 days in January, 6.8 days in February and 6 days in March.
December averages only 5.3 snow days, meaning there is a greater chance of a white Easter than white Christmas when Easter falls early in the calendar, she said.