'Underpinning UK prosperity:' New facility opens in Hampshire to develop & test laser cannon
Published time: 26 Nov, 2017 09:21
UK arms giant QinetiQ has opened a new 'center of excellence' ..
---
UK arms giant QinetiQ has opened a new 'center of excellence' for the development and testing of cutting-edge laser cannon. The new facility, named Dragonworks, will be an operational playground for lasers designed for the military.
Among other things, the facility in Farnborough, Hampshire boasts a dedicated clean room for assembling laser weaponry, as well as "the UK's only Reflective Hazard Assessment Tool" (RHAT), designed to examine how laser energy is reflected from different surfaces.
Read more
The first key project to be undertaken at Dragonworks will be the assembly and testing of the Laser Directed Energy Weapon (LDEW) currently being developed by the UK's Dragonfire consortium. Components are set to arrive in early 2018, when QinetiQ will begin building the weapon's laser source, the company said on its website.
Testing of the prototype will begin on UK ranges in 2018, climaxing in a major demonstration in 2019, the British government said in September. https://www.gov.uk/government/news/dragonfire-laser-directed-energy-weapons
Once the characteristics of the laser have been figured out, the LDEW is to be installed on a warship, The Register reported.
Peter Cooper, the Project Technical Authority in the Defense Science and Technology Laboratory (Dstl), which manages the Dragonfire contract on behalf of the UK Ministry of Defense, said that the new facility in Farnborough is "a key step in delivering the Dragonfire project and reflects the continuing UK MOD investment, supported and enabled by industry funding, amounting to tens of millions of pounds in UK industrial skills and capabilities and underpinning UK prosperity."
Read more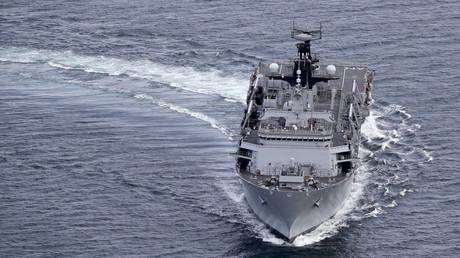 In September of last year, the British government said that a £30 million ($40 million) deal for a new laser, which could "transform weapons technology of the future and the development of the UK's first laser weapon," had been finalized. Financial support comes from the government's new £800 million ($1 billion) Innovation Fund, which is also sponsoring research into "cutting edge anti-missile systems, tiny insect-inspired surveillance drones, quantum gravitational detectors, advanced protective materials, and airborne threat-targeting laser weapons."
It is hoped that a novel laser weapon could "complement or replace existing weapons systems with the potential for significant benefits." Such a weapon could be employed to protect the UK's land and maritime forces, including ships, from such threats as "missiles or soldiers from enemy mortars," according to a government statement.