Blame Boris? Nazanin Zaghari-Ratcliffe faces new allegations of training journalists in Iran
Published time: 27 Nov, 2017 10:42
Iran has made fresh allegations against British-Iranian Nazani..
---
Iran has made fresh allegations against British-Iranian Nazanin Zaghari-Ratcliffe, which could land her 16 more years in prison. It comes after Foreign Secretary Boris Johnson mistakenly said she was training journalists in the country.
Zaghari-Ratcliffe was arrested in Iran's capital Tehran while visiting her parents with her daughter in April 2016 amid claims of her attempting to overthrow the state. She was handed a five-year jail sentence six months later.
Read more
Foreign Secretary Boris Johnson was accused of aggravating the 38-year old's case when he wrongly told a Commons select committee that she had been in the Middle Eastern country to teach journalism on behalf of the her former employer, the Thomson Reuters Foundation. Amid calls for him to resign over his blunder, Johnson rowed back on his claims and apologized for his comments.
Now Iranian state media says Tehran has compiled evidence that Zaghari-Ratcliffe- who vehemently denies the allegations against her- was training Iranian journalists in 2010.
She is alleged to have been involved in BBC projects, which entailed the recruitment of reporters for the banned BBC Persian TV and "opposition cyber teams". The evidence consists of a pay slip confirming that, before working for Reuters, the mother-of-one had been employed by the BBC World Service Trust. An email, apparently taken from her laptop, said the Trust engaged in training "young aspiring journalists from Iran and Afghanistan through a secure online platform."
As her case unfolds, the UK is considering paying Iran £400 million ($534 million), which Tehran is demanding for what it says was an unfulfilled tank order dating back to the revolution in 1979.
Read more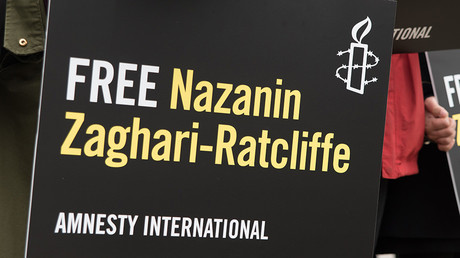 Following the fresh allegations, the defendant's husband, Richard Ratcliffe, said the latest accusations are just a means for the Iranian government to pile pressure on the UK to pay its debts.
"There are grains of truth…and there's stuff that's just plain fantasy. It's partly being done to put pressure on the British government," he said. "All along in our case, it's been political."
A BBC Media Action spokesperson said: "According to our records, she was employed as a projects assistant between February 2009 and October 2010 for the BBC's international development charity, BBC World Service Trust (now called BBC Media Action), which operates independently of BBC Persian.
"Ms Zaghari-Ratcliffe was never a journalism trainer but undertook administrative duties such as travel bookings, typing, and filing."