'Out of control' wildfire forces thousands to flee
By noon Tuesday, none of the fire had been contained and it had grown to 45,500 acres — about 71 squ..
---
By noon Tuesday, none of the fire had been contained and it had grown to 45,500 acres — about 71 square miles — in just 13 hours. "Fires are breaking out across the so. Cal. Region… Be fire safe. Firefighters are working very hard to minimize damage to property. Evacuations are taking place in many places in Southern California," the Ventura County Fire Department tweeted. Some homes were ablaze in the northern part of Ventura, a city of more than 100,000 people on the Pacific coast. The fire — the largest of several wind-driven blazes in Southern California — forced sheriff's deputies to knock on doors to warn residents to evacuate in the dark Monday night. About 150 buildings, including homes and an evacuated Ventura hospital, have been destroyed.On Ventura's northern edge, at least 10 homes and numerous palm trees were burning in one neighborhood, sending thick smoke and dangerous embers into the gusty air. Live updates: Wildfires spread in Southern CaliforniaAn evacuee, Catherine Wastweet, stood on a street Tuesday morning and looked up to the foothills where her neighborhood was aflame."We live up there … but we just don't know whether our house is burned down or not, because we can't even see through all of the smoke," she said.
Latest developments
• Time to go: About 27,000 people were under mandatory evacuation in Ventura County as fire officials warned the powerful winds could push flames further into the city of Ventura.• Started Monday: The brush fire, called the Thomas Fire, was first reported at Steckel Park, just north of Santa Paula, around 6:30 p.m. local time, according to the Ventura County Fire Department. The cause wasn't immediately known.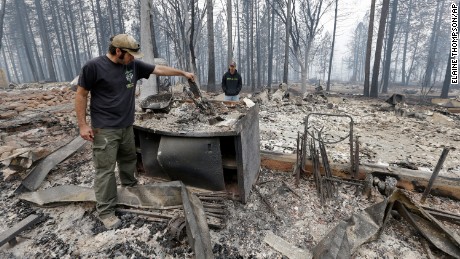 •Blazing fast: By early Tuesday, the fire was burning at a rate of nearly an acre per second. At that speed, it would have covered Manhattan's Central Park in about 15 minutes. • Gutted by flames:Vista del Mar Hospital, an 82-bed mental health facility in northwestern Ventura, was fully evacuated two hours before flames burned it, county fire engineer Richard Macklin said.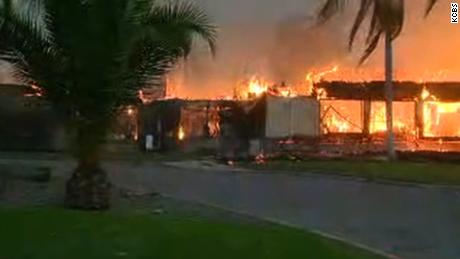 • State response: Gov. Jerry Brown declared an emergency for Ventura County on Tuesday morning, freeing state resources such as the National Guard to support response efforts.• Casualty change: A dead animal was found at the site of a rollover car crash near the evacuation zone Monday night, Ventura fire officials said. Initially, authorities reported that a person had died there, but they later clarified that no human body had been found.• One injury: A fire battalion chief was injured in a traffic collision during the fires Monday night, and released from a hospital after being treated for "bumps and bruises," Ventura County Fire Chief Mark Lorenzen said. • Intense fire: "The fire is still out of control and structures continue to be threatened throughout the fire area," the Ventura County Sheriff's Office said on a local emergency preparedness website. "Due to the intensity of the fire, crews are having trouble making access, but there are multiple reports of structures on fire."Other fires: There are two burning in Los Angeles County. The Creek Fire has grown to 11,000 acres, and the Rye Fire to about 500 acres.
Santa Ana winds and dry conditions
Within a few hours, the fire jumped to thousands of acres as Santa Ana winds, blowing as fast as 40 to 60 mph, carried its embers. The fire engulfed dry chaparral and climbed through steep terrain.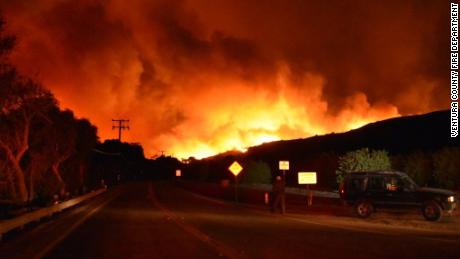 Satellite images show how fast the Thomas Fire lit up Ventura County at night.The winds were part of the season's "strongest and longest" Santa Ana event.The Santa Anas are strong, dry winds that high-pressure systems push from east to west, from the mountains and desert areas down into the Los Angeles area.They could make the situation even worse Tuesday, with gusts of 50 to 60 mph possible. A lull is possible Wednesday, but winds could again pick up Wednesday night and Thursday.Dry conditions won't help. The county is in a period of moderate drought, the US Drought Monitor says. No considerable rain fell in November in the area, which hasn't seen a month of above-average rainfall since February 2016.
'I saw a skyscraper inferno of smoke'
Erik Nasarenko, a Ventura city councilman and former mayor,said he was at a council meeting Monday evening when the city manager told him his neighborhood was being evacuated.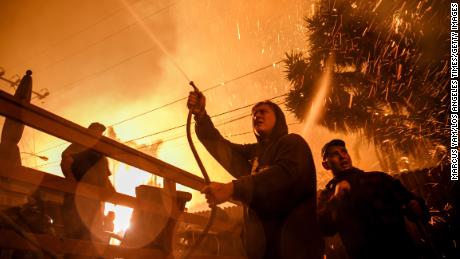 "I left the meeting, raced home, and I saw a skyscraper inferno of smoke," Nasarenko said Tuesday morning. After collecting important documents from his home, he was about to pick up family photo albums when approaching flames made him reconsider."I saw the orange glow, and I just said, 'Let's go.' " Nasarenko said he, his wife and two children drove to his parents' home near San Fernando.He doesn't yet know the fate of his house, but he said neighbors told him they saw nearby structures on fire.
A knock on the door
Orange flames glow threateningly close to a Ventura neighborhood in video recorded early Tuesday by Eric Rosenberg. He said he and his wife were alerted to the fire around 12:30 a.m. when a neighbor knocked on his door."(The) power was out and (my) phone's internet was out," he said. "I texted a friend a mile or so away who gave me more info.""We had packed the car at about 1 a.m. and left right away when the police said it was time to go" three hours later, he said.Rosenberg and his wife are currently at his parents'-in-law home in Carpinteria, about 25 minutes their home. "We can see the billowing smoke clouds in the distance," Rosenberg said.
Thousands without power
The fire also burned down power lines, at one point leaving more than 260,000 homes and businesses without power in Ventura County and neighboring Santa Barbara County, said Susan Cox, a spokeswoman for Southern California Edison.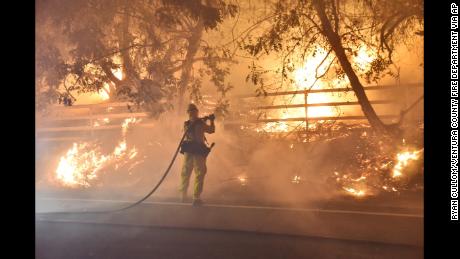 By early Tuesday, power had been restored to all but 20,000 customers — but more outages were possible because flames were burning along power transmission paths, Cox said.As the fire spread, the nearby hills glowed bright orange while residents in Santa Paula threw belongings into cars as they began to evacuate, according to video footage from CNN affiliates. Firefighters couldn't immediately use air tankers and helicopters to battle the wildfire because of darkness and strong winds, but officials intended to put them to use Tuesday morning, said Lorenzen, the Ventura County fire chief.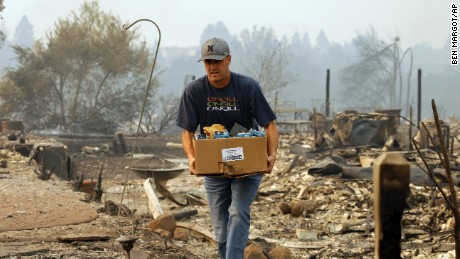 About 1,000 firefighters were battling the blaze or heading to the area to help Tuesday morning, said county fire engineer Macklin.Macklin estimated that one stretch of flames extended 5 to 6 miles Tuesday morning. "I've never seen a fire burn down so many structures so fast in my (30-year) career," Macklin said. Officials shut State Route 150, between Ojai and Santa Paula, due to the fires. All students at the Thomas Aquinas College, a private Catholic college in Santa Paula, were evacuated Monday night, the school said on Twitter. The college and the Santa Paula and Ventura school districts announced their closures Tuesday. Two evacuation centers were opened for residents who had to leave their homes.
CNN's Paul Vercammen reported from Ventura, while Jason Hanna and Madison Park wrote and reported from Atlanta and San Francisco, repectively. CNN's Cheri Mossburg, Judson Jones, Brandon Miller, Intisar Seraaj, Sonya Hamasaki Carma Hassan and Keith Allen contributed to this report.
Original Article