Poor state of arms: 1 in 5 British soldiers not combat-ready, French ships needed to fight
Published time: 5 Dec, 2017 13:25 Edited time: 5 Dec, 2017 13:26
Thousands of British soldiers ar..
---
Thousands of British soldiers are unfit for battle because of medical conditions, and the Royal Navy may need French ships in order to fight, calling into question whether the UK's military is able to defend Britain at all.
Up to 8,000 people are unable to be deployed to the frontline because of mental or physical conditions, lack of fitness or non-medical conditions. That is on top of 10,000 who are deemed medically fit, but are still short of being able to join all operations.
Read more
The figures were highlighted by Tory MP Andrew Bowie, a former naval officer during a parliamentary question. The MP for West Aberdeenshire and Kincardine, told the Independent the figures are "worrying."
"Far from the 82,000 soldiers that the British Army is supposed to have, it seems that, when medically unavailable soldiers are taken into account, it is more like 60,000. This gap is placing a huge burden on an already overstretched army required to carry out the roles the Government asks them to do on our behalf.
"A decision has to be made. Do we fund and man our armed forces properly and ask them to do all we ask them, or do we continue to underfund and undermine, leading to over-stretched and undue stress on our serving soldiers?"
But it looks like Britain's defense struggle has not gone unnoticed across the Channel, as the old enemy, though more-latterly ally, France has now said it would be happy to offer the UK greater access to its warships.
It comes amid plans to scrap Britain's amphibious landing fleet to help plug a £20 billion (US$26.7 billion) funding black hole.
Read more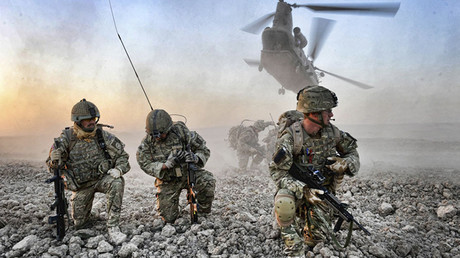 As defense officials finalize a security and military review, proposals include scrapping the UK's two amphibious landing ships, HMS 'Bulwark' and HMS 'Albion', along with up to 1,000 Royal Marines.
It's now being reported that Chancellor Philip Hammond argued that 50,000 soldiers are enough to defend Britain.
Ex-army officer Johnny Mercer blasted Hammond as "delusional," telling the Sun: "We couldn't even fulfil our NATO commitments with an army of 50,000, let alone mount a sustained defense of our nation or its dependent territories.
"The chancellor also appears to have forgotten that reducing the number of our troops by any number would completely breach our election manifesto promise to maintain force levels made only in June."