215 Arrested in Texas Anti-Gang Operation
Photo: Shane T. McCoy/U.S. Marshals
byBob Price19 Dec 2017San Antonio, TX0
19 Dec, 201719 Dec, 201..
---
byBob Price19 Dec 2017San Antonio, TX0
Federal, state, and local law enforcement officers combined to take 215 gang members and affiliates off the streets of San Antonio, Texas. The busts came during a three-month joint law enforcement task force operation that ended on December 18.
Deputy U.S. Marshals, San Antonio police officers, Bexar County Sheriff's Office deputies, and Texas DPS troopers joined forces in Operation Triple Beam focusing on gang violence and crime reduction on the east side of San Antonio, the San Antonio Express-Newsreported. The operation resulted in the arrests of 215 people and the seizure of 70 guns, $233,373 in cash, and $176,153 in drugs.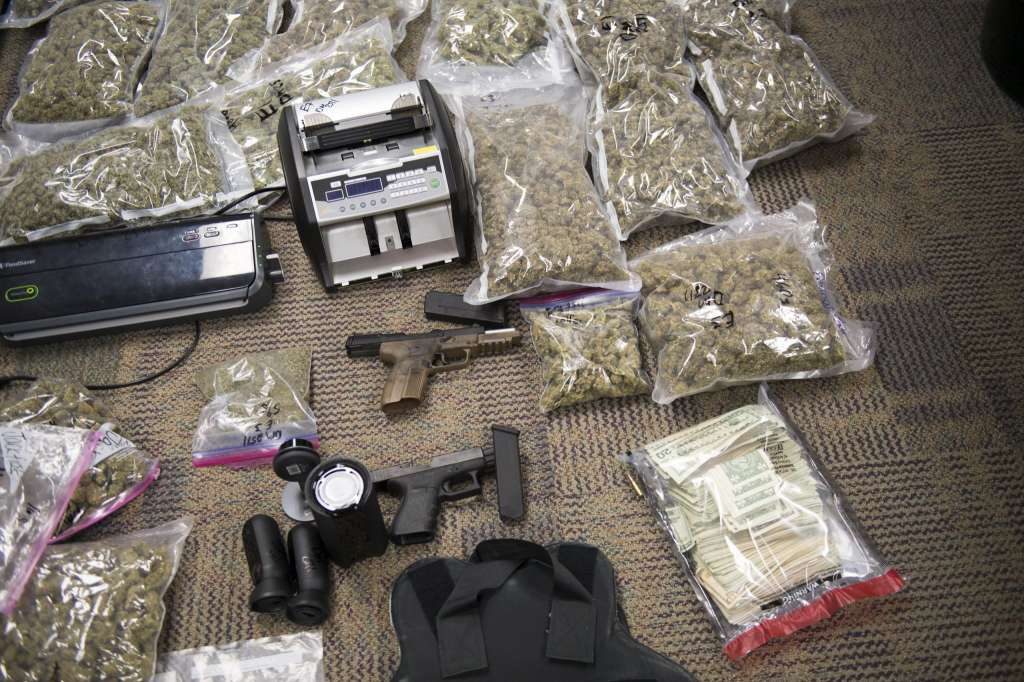 Photo: Shane T. McCoy/U.S. Marshals
"We focused like a laser beam and collaborated efforts with our state and local partners," U.S. Marshals Agent Alessio Hernandez said.
Marshals from the Gang Enforcement Unit led the operation that led to the arrest of 40 federal fugitives. In addition to the arrests, marshal deputies also carried out 51 sex offender compliance checks, Agent Hernandez said.
The report did not specify which gangs were targeted. However, criminal activity by the transnational MS-13 gang has been a primary focus of the Trump Administration and Texas Governor Greg Abbott.
In April, Governor Abbott raised the ante when he declared Houston "will be hostile territory for gangs," Breitbart Texas reported.
"This recent wave of senseless violence cannot continue," Governor Abbott told reporters at a press conference. "Government's foremost responsibility is to keep our citizens safe and secure. Texas will take action and use all lawful means to put an end to this lawlessness."
The Governor pledged state resources to:
Establish a Tactical Operations Center in Houston to enhance and coordinate operations around the clock.
Provide $500,000 in new funding from the Governor's Criminal Justice Division to increase Texas Anti-Gang Center resources in the Houston area.
Deploy additional Texas Rangers and DPS Special Agents to support local law enforcement.
Deploy added technology, including air assets and patrol unit tracking, to enhance timely collection and analysis of intelligence
In October, U.S. Attorney General Jeff Sessions told the International Association of Chiefs of Police that the DOJ will use "whatever laws we have" to get MS-13 gang members off the streets, Breitbart Texas reported. The attorney general warned MS-13 gang members in April that "We are targeting you."
The Department of Homeland Security announced that during FY2017 Homeland Security Investigations agents and Enforcement and Removal Operations officers arrested nearly 5,000 gang members including 796 members and affiliates of MS-13.
Bob Price serves as associate editor and senior political news contributor for Breitbart Texas. He is a founding member of the Breitbart Texas team. Follow him on Twitter @BobPriceBBTX, Gab, and Facebook.
The post 215 Arrested in Texas Anti-Gang Operation appeared first on News Wire Now.