Victims of online hate speech are reporting abuse to social media companies but "are just getting no response at all", the head of a parliamentary committee has complained.
Yvette Cooper MP, the chair of the Home Affairs select committee, grilled Google, Twitter and Facebook in Westminster on Tuesday as part of an inquiry into hate speech.
She said that although the companies had taken action to remove abusive material raised at a previous hearing, they had failed to take down hate speech flagged up by her office through the "normal mechanisms" of report buttons on the sites.
:: Sky News confronts trolls who targeted Tory MP Anna Soubry
Ms Cooper said: "We reported to each of you some individual cases that we had found that appeared to us to violate your community standards or potentially be illegal.
"There are a series of violent ones, including violent threats towards the current Prime Minister, a former prime minister, and very racist abuse towards Diane Abbott," Ms Cooper told Sinead McSweeney, Twitter's vice president for public policy and communications in Europe.
"I'm not going to go into each tweet one-by-one, not least because some of the content would be unsuitable for the public record," responded Ms McSweeney.
However, she said looking at the tweets there and then she did feel they would be in violation of Twitter's standards.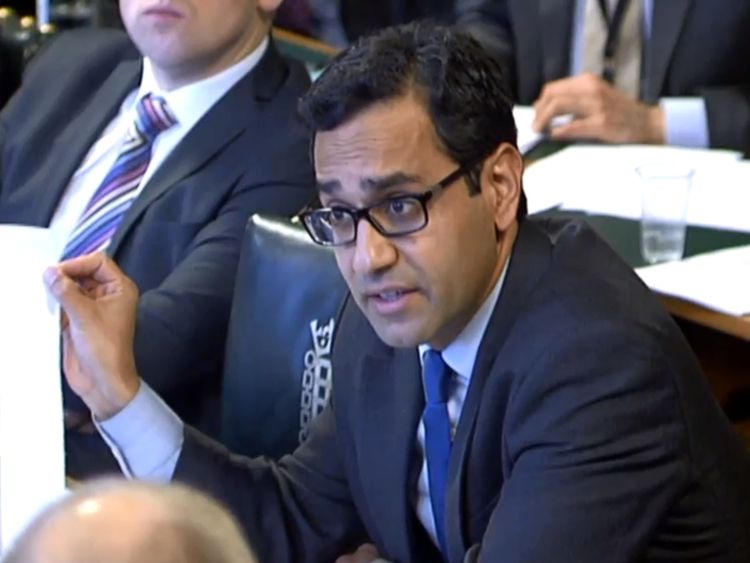 Conservative MP Rehman Chishti thanked Simon Milner, director of public policy at Facebook, for attending a seminar attempting to safeguard faith communities on the internet.
However, he asked him if he thought some material on the site could undermine "your claims of being proactive and your work to build trust and confidence in those communities?"
Mr Milner said he could understand why people feel frustrated, but stressed the work Facebook had undertaken was focused on addressing the spread of Islamic State and al Qaeda propaganda.
Facebook has resisted the Government's suggestions to introduce a tax on social media companies, which Mr Chishti said would penalise it for failing to take down the abuse material he presented.
Such legislation has been passed in Germany, but is not yet in action, Mr Milner said.
He said Facebook's concern regarding the suggestion was: "You are asking our companies to decide what is illegal, rather than the courts. And we think that is problematic for national jurisdictions to do that.
"Should we be held to account to are we applying our standards in the proper way? Absolutely. It's one of the reasons why – it may not feel like it sometimes – but we welcome coming to this committee to be giving an account of what we do."
More from Facebook
Ms Cooper acknowledged the firms had been asked to attend the hearing as they are the "biggest" and added that "we do recognise that you do far more than other organisations that also need to be challenged".
However, she said: "You are some of the richest companies in the world. That is why we need you to accelerate, and that is why we need you to do more."
The post Social media firms 'failing on hate speech' appeared first on News Wire Now.