Shivery New Year! Boston expecting 5 degrees
After an unusually cold Christmas, "more of the country will be dealing with this bitter cold," CNN ..
---
After an unusually cold Christmas, "more of the country will be dealing with this bitter cold," CNN meteorologist Gene Norman said. "We'll have one arctic blast tonight and another toward the end of the week and into the weekend."Norman said 48 million people were under a wind chill advisory Tuesday night, up from only 30 million people earlier in the day. In New York City, celebrants will gather in Times Square on Saturday night, with the temperature around 12 degrees — but it will feel colder because of wind chill. Temperatures will likely dip lower on New Year's Day.In Boston, forecasters predict a low of 5 degrees on New Year's Eve and 5 degrees on the first day of the year. Mayor Marty Walsh urged residents to take precautions for the bitterly cold weather."In times like these, it's vital for residents to look out for one another, and I encourage all Bostonians to reach out to the City if they or their neighbors need help this winter season," he said in a statement.Early winter snow socked several northern areas. Erie, Pennsylvania, recorded 62.9 inches over three days. Ridgefield, New York, had 56.9 inches of snow and Cold Station, Pennsylvania, had 32.2 inches.The Midwest has already been smacked.Minneapolis celebrated its coldest Christmas since 1996, with a low of minus 6 degrees, said Shawn Devinny of the National Weather Service. In coming days, the low temperatures in Minneapolis will drop even more, to minus 19 degrees, the National Weather Service said. With the wind chill, it will feel like minus 25-40 degrees in some spots.People still managed to have fun, like a man on skis who could be seen being pulled along by a horse and buggy near Morley, Minnesota. "Growing up in a small town, we have to make things interesting when we're bored, and apparently so do the Amish," said Tara Hayward, who shot the video.The cold put some people at grave risk. Police in Omaha, Nebraska, made contact with homeless people on the street Tuesday night to make sure they had a place to go, Officer Phil Anson told CNN."It's negative 1 F, but it feels like negative 15 F," Anson said. "When it does get very cold the homeless are a concern. We do try to keep an eye out for them." At a Milwaukee shelter, Repairers of the Breach, gloves, scarves and other pieces of winter clothing were handed out to the homeless, reported CNN affiliate WITI. Temperatures will be dropping to a low of 2 degrees in Milwaukee over the next few days."Tonight we go into survivor mode," said James West, the shelter director. "The temperatures are going to drop and we're going to become an emergency warming room, we're taking the stance that no woman or man shall be left behind."The state of Wisconsin, incidentally, will be marking the 50th anniversary of a famous cold weather event: the Ice Bowl of December 31, 1967. The temperature was minus 13 degrees when 50,000 fans watched the Packers win that NFL championship game (played before the Super Bowl even existed) at Lambeau Field Green Bay.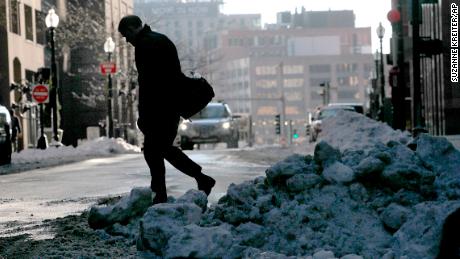 The turn in the weather was good for some businesses."Starting at 7 a.m. we have done triple our normal call volume," said Jeannette Karlzen with G&S Towing Service Inc. in Des Moines, Iowa. "I think it's because of the cold. I get a call every five minutes. Lots of jump starts and tire changes. Stuff people don't want to do in cold weather."AAA spokeswoman Gail Weinholzer said service calls in the Chicago area were up 192% over a normal winter day, and up 219% for Minnesota-North Dakota and 201% for Wisconsin.The cold produced "sea smoke" on Lake Superior. Kevin Huyck, a weather service meteorologist in Duluth, said that happens when air temperatures are considerably lower than the lake's temperature. The heat and moisture from the lake go into the atmosphere, condense and billow up, he said. The lake effect snow is expected to continue over the Midwest for the next couple days. Lake-effect snow happens when cold air combines with lake water to create narrow bands of powerful snow. "There will be more snow moving into the Great Lakes on Thursday and Friday, but it's really the cold that will be the headline for that part of the country," Norman said.While other parts of the country won't be as cold as the Midwest, they won't be balmy.Asheville, North Carolina, should expect a low of 18 degrees on New Year's Eve and 8 degrees on New Year's Day. In Atlanta, the low temperatures will drop into the 20s on Saturday, Sunday and Monday nights, the weather service said.But Georgia was looking at a slight chance of snow in the northern part of the state on Tuesday night and possibly toward the end of the week."It's going to be slightly cooler than normal and there is a chance of light wintery precipitation toward the end of the week, but where is uncertain," Norman said. "And another chance (of snow) to start the new year."
CNN's Marlena Baldacci, Gabriela Milian and David Alsup contributed to this report.
Original Article
The post Shivery New Year! Boston expecting 5 degrees appeared first on News Wire Now.