Mum's battle over 'horrendous' disabled loos
Sarah Brisdion explains why she is pushing for businesses to "do the right thing" and install toilet..
---
Sarah Brisdion explains why she is pushing for businesses to "do the right thing" and install toilets with an adult-sized bench and hoist to stop the ordeal that many disabled people have to go through when the want the loo.
Would you lie on a urine-soaked public toilet floor? Or would you lie a newborn baby on one?
Of course not. But currently, many businesses are allowing hundreds of thousands of disabled people in the UK, along with my seven-year-old son, Hadley, to endure just that.
Hadley, has cerebral palsy and is a full-time wheelchair user.
His disability means that he cannot stand unaided and is not always able to control his bowel and bladder.
He needs to lie down to have his clothes and underwear prepared before being transferred to the toilet or to have his continence items changed.
Without a safe, clean, changing bench to do this, there is little option but to use a toilet floor. This is a heart-wrenching thing for any parent to subject their child to.
It is undignified, dangerous and painful for both of us and regularly reduces us to tears. The only other option is to let him sit in his own bodily waste!
What is just as upsetting, is that there is an answer to this widespread problem that huge multinational businesses are refusing to provide for their customers: a Changing Places toilet – a large accessible toilet with an adult-sized changing bench and hoist.
By not including these facilities in restaurants, shopping centres, supermarkets, sports venues, cinemas, leisure attractions etc, businesses are choosing to exclude us.
The stress that this puts on my family is tremendous.
We have to plan every outing with military precision, knowing exactly where we are able to use a toilet at any given moment. There are only just over 1000 Changing Places toilets in the UK. Which sounds like a lot, until you find out that there are millions of toilets in the UK that other members of the public can use – 600 in The Shard alone!
We have to miss out on many activities that most people take for granted because if there isn't a toilet my son can use, we know we are likely to have to leave early or not visit at all.
Or what should be a pleasant day out, is ruined because of another horrendous toilet floor.
Hadley is very aware that this is grossly unfair and that is he being treated terribly. When you witness your child sobbing and begging you not to lay him down on a stinking toilet floor, it is very hard to stay positive.
I lay awake at night worrying about what this is doing to his mental health and mine. The harsh reality is, we now rarely go out at all for fear of the conditions we will find. A story that is all too common for so many.
As a nation, we don't like talking about wee, poo or periods and I believe this is making the battle for Changing Places one of the most ignored fights for equality in recent times.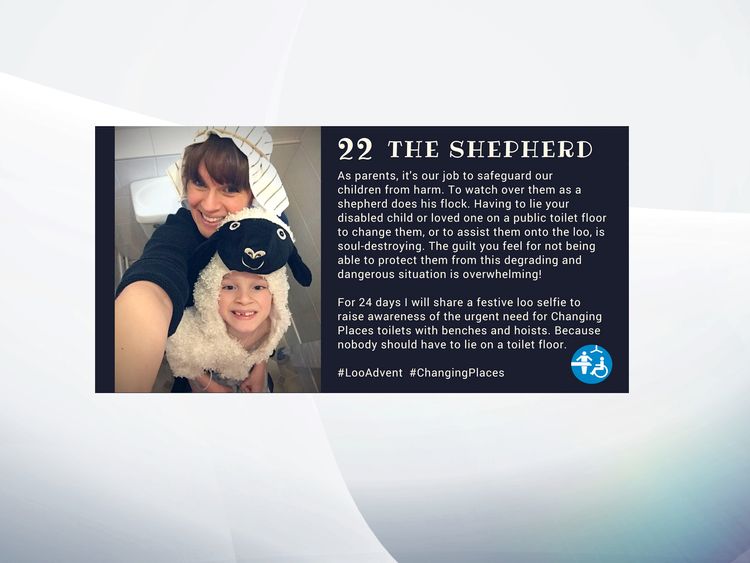 I wanted to do something to try to break the taboo around toileting and get these issues further into the public eye. After all, we all have to pee (on average eight times per day). Some people just need a little more help than others.
So, on 1 December 2017, #LooAdvent was born.
For 24 days, I posted a photograph of myself using the toilet, dressed in different festive costumes, trying to reach as many people as possible with our message.
Some said I have no dignity. I say, lying on a toilet floor covered in other people's urine is way more undignified and I'm willing to do anything to stop that!
I hoped that it would reach decision makers, MPs, businesses and other people who need Changing Places, and that in turn, that might result in more toilets my son and others can use.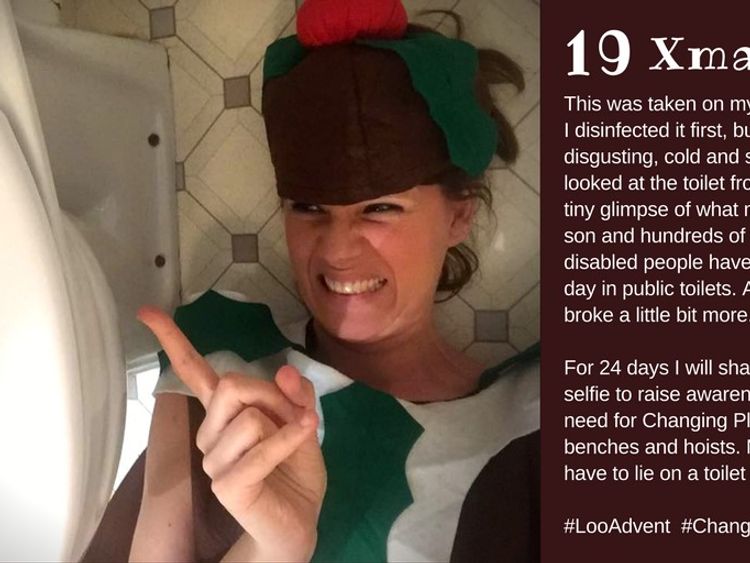 The reaction was incredible. Whilst there have been no new facilities as a result as yet, the reach was beyond my expectations. Media coverage across press, radio and TV and numerous celebrity supporters.
Even some toilet selfies from the team at The Last Leg and from Paralympians, Hannah Cockcroft MBE and Anne Wafula Strike in solidarity.
It was so successful, that I've decided to embark on a new social media challenge. #ShameOnLoo will see me taking selfies on some of the worst toilet floors I've had the displeasure to experience.
The first of which was taken in a McDonald's restaurant. A small, cramped, inadequate and vile accessible toilet with a door that didn't even close.
More from Opinion
In a statement, McDonald's said: "We're sorry for this customer's experience. Hygiene and safety is of paramount importance to us; all of our toilets are checked frequently and cleaned whenever necessary and the floors are mopped regularly throughout the day."
It's clear that disabled people are not valued by so many businesses. But why not? The purple pound is worth £2.49bn per year. So if businesses won't install Changing Places because it is the right thing to do, why are they not installing them because it makes business sense?