Devastating mudslides kill 13 people in California
Devastating mudslides have killed at least 13 people in California, with local officials likening th..
---
Devastating mudslides have killed at least 13 people in California, with local officials likening the scene to a "World War One battlefield".
Heavy downpours in communities along the US state's scenic coastline sent mud, boulders and tons of debris rolling down hills – destroying dozens of homes, demolishing cars and toppling trees.
The flash flooding began in the Santa Ynez Mountains, which was badly hit by gigantic wildfires last month.
Officials are warning that the death toll is likely to rise, with an unknown number of people unaccounted for, and the search for survivors continues.
More than 50 people were rescued from rooftops because trees and power lines were blocking roads, including a mud-caked 14-year-old girl who was pulled from the rubble of a collapsed home in Montecito after being trapped for hours.
Montecito, one of the areas hardest hit by the mudslides, is a wealthy enclave of about 9,000 people – and home to celebrities including Oprah Winfrey, Rob Lowe and Ellen DeGeneres.
Winfrey said she was "praying for our community again in Santa Barbara" as she posted a video on Instagram showing the depth of mud outside her home.
Actor Rob Lowe tweeted: "Mourning the dead in our little town tonight. Praying for the survivors and preparing for whatever may come." He had earlier tweeted that Winfrey's home was a "staging ground for helicopter rescues".
A massive operation is also under way to rescue 300 people who are stranded in Montecito's Romero Canyon area, and helicopters borrowed from the US Coast Guard are being used to airlift them out.
Mandatory evacuations had been ordered in parts of Santa Barbara County, but it is believed only 10% to 15% of residents actually heeded the warning.
The first confirmed death was that of Roy Rohter, the founder of St Augustine Academy in Ventura. The Catholic school's headmaster Michael van Hecke said Mr Rohter's wife had been injured in the mudslide.
Bill Brown, the sheriff of Santa Barbara, said: "The best way I can describe it is, it looked like a World War One battlefield.
"It was literally a carpet of mud and debris everywhere with huge boulders, rocks, downed trees, power lines, wrecked cars, lots of obstacles and challenges for rescue personnel to get to homes, let alone to get people out of them."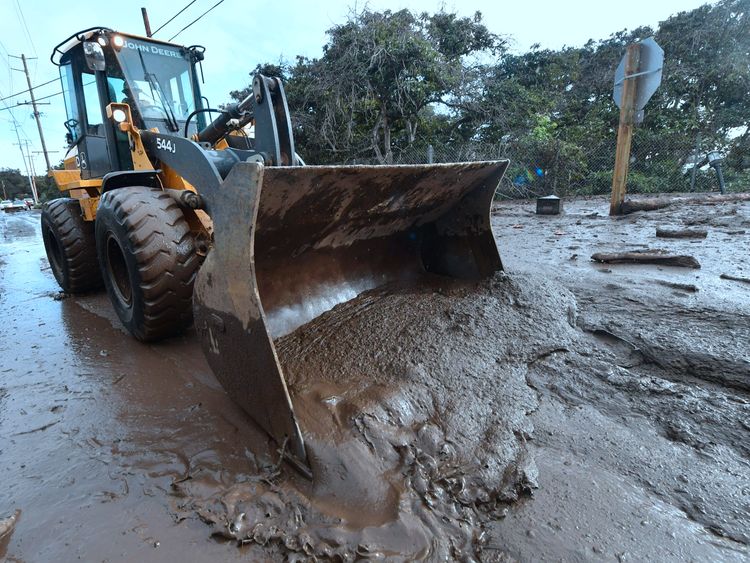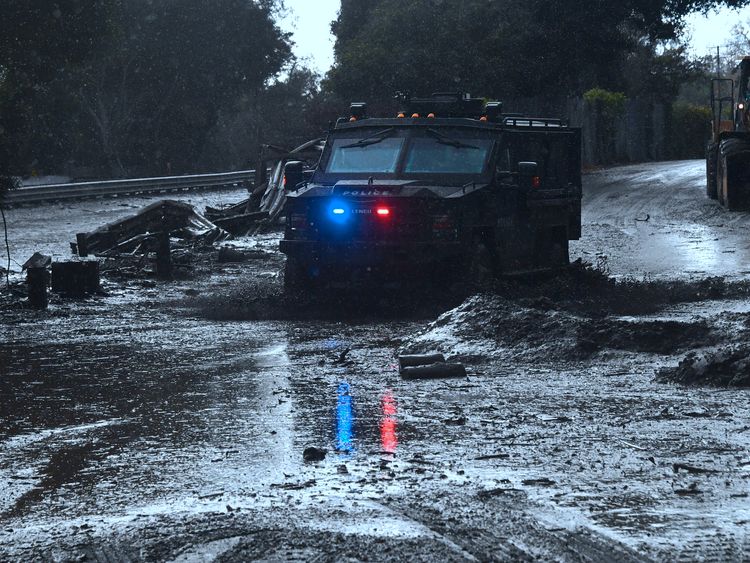 Thomas Tighe said he stepped outside his Montecito home in the middle of the night after hearing the "deep rumblling" sound of boulders moving as mud levels rose.
Two cars were missing from his driveway and he watched two other vehicles slowly move sideways down the middle of the street "in a river of mud", he said.
More from US
After a wildfire, burned vegetation and charred soil are especially susceptible to destructive mudslides because scorched earth does not absorb water well and the land is easily eroded when there are no shrubs.
The death toll has surpassed the number of fatalities from a California mudslide in January 2005, when 10 people were killed in the town of La Conchita.