Ex-England striker Cyrille Regis dies at 59
Former West Brom and England striker Cyrille Regis has died aged 59, the Professional Footballers&#0..
---
Former West Brom and England striker Cyrille Regis has died aged 59, the Professional Footballers' Association has announced.
The forward, alongside Laurie Cunningham and Brendon Batson, formed a trio nicknamed the Three Degrees and played an integral role in the acceptance of black footballers in the English leagues.
He notched up 614 league appearances and scored 158 league goals during his 19 year professional playing career.
After retiring in 1996 Regis worked as an agent for the Stellar Group.
The agency's chief executive Jonathan Barnett said: "Cyrille was a wonderful person to work with and his death has left everyone in the company and the players he represented with a great sense of sadness.
"Our deepest condolences go out to Julia and all of Cyrille's family and close friends.
"Cyrille was a pioneer in British football and hugely respected by everyone in the game.
"He was a role model to his young clients and a genuinely lovely man."
Mr Barnett also praised Regis for his "passion, determination and integrity, especially in the way he would champion the careers of up and coming players".
Broadcaster and West Brom fan Adrian Chiles had been due to meet Regis and former team-mate Batson on Tuesday, he told BBC Radio 4's Today programme.
Praising the role played by Regis in dealing with racism, he said: "In later years I was privileged to get to know him as a friend and he just didn't carry anger with him from that time.
"Ian Wright, a later generation of black players, said 'we were like Malcolm X … but Cyrille was like Martin Luther King', Cyrille was always turning the other cheek.
"They did so much for the game and so much for the cause of black footballers.
"I was supposed to meet him and Brendon tomorrow to discuss a celebration we were having for the 40th anniversary of Laurie Cunningham making his debut for us, celebrating 40 years of all that's been achieved by black footballers in the game.
"So I suppose that meeting will now turn into something of a wake. We are all absolutely horrified and want to do all we can to pay tribute to the greatest of footballers and the greatest of men."
Heavy heart this morning, just heard that Cyrille Regis has passed away age 59. He was more than just a footballer, he blazed a trail for every black player who followed him, an inspiration to myself and many players of my era. A humble man and a great man.#RIPC

— Brighty (@Mark__Bright) January 15, 2018
Regis was born in French Guiana but moved to London with his family at the age of five.
He was spotted playing Sunday morning football by the chairman of Surrey non-league club Molesey.
The trained electrician joined West Brom in 1977 after chief scout, Ronnie Allen, offered to pay part of his signing fee from his own pocket because he was so certain the then 20 year old would make it to the top tier of English football.
He had his first England call-up in 1978 for the Under-21s before appearing for the England senior team in 1982 which he played for five times.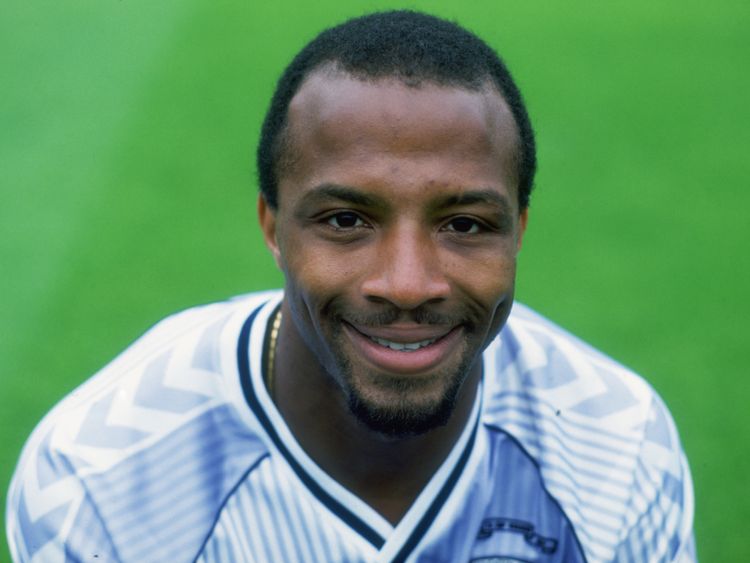 Regis finished with West Brom in 1984 having scored 112 goals and made 301 appearances.
The forward, aged 26, joined Coventry City in the same year and was a key member of the FA Cup winning team in 1987.
In 1991, aged 33, Regis was sold to Aston Villa where he was reunited with former West Brom manager, Ron Atkinson.
Two years later he was transferred to Wolverhampton Wanderers where he stayed for just one season before signing with Wycombe Wanderers in Division Two.
Regis played his last game in February 1996 aged 38.
He retired from the game in October 1996 after failing to recover fully from an injury sustained during his final senior game for Chester.
More from UK
He was awarded an MBE in 2008.
More follows…