Snow and severe gales cause disruption across UK
Gale force winds, snowstorms and treacherous ice has caused disruption across the UK.
Britons woke ..
---
Gale force winds, snowstorms and treacherous ice has caused disruption across the UK.
Britons woke to fallen trees, damaged homes and travel disruption on roads and rail networks following a night of extreme weather.
Overnight conditions saw temperatures in parts of Scotland drop to -7C (19F), laying snow in Cumbria reach 36cm and wind gusts in North Wales exceed 93mph.
Motorists in northern England, parts of Scotland and Northern Ireland were advised to drive with "extreme caution", as heavy snow, sleet and rain overnight made way to icy patches.
The East of England – which is susceptible to particularly strong wind due to the flat landscape – woke to multiple power cuts leaving thousands without power.
Engineers battled to get power back to businesses and homes throughout the morning.
Red Watch Foleshill securing area around 3storey town house, entire gable end which has blow off property in Stoke Health Coventry.
Luckily no injuries,
Be careful out there today, #StormFionnpic.twitter.com/BPWT6QdwDg

— Foleshill Fire (@FoleshillFire) January 18, 2018
Wind damage in Peterborough also led to the UK's largest farm machinery, equipment and agricultural services show – LAMMA – being cancelled at short notice.
During the morning, wind speeds of 83mph were recorded in Norwich and Somerset.
The strong winds led the Met Office to warn morning commuters to watch out for flying debris and material falling from damaged buildings.
In Coventry, West Midlands Fire Service posted a photo of a severely damaged three-storey house which had its gable-end completely destroyed by the wind.
National Rail services across the UK suffered weather-related delays, with trains hitting fallen trees, dislodged fence posts and even two sheds which blew on to the line between Newtown and Welshpool.
Journeys to and from Kings Cross faced delays of up to an hour due to a plastic bag caught in the overhead electric wires between Peterborough and Stevenage.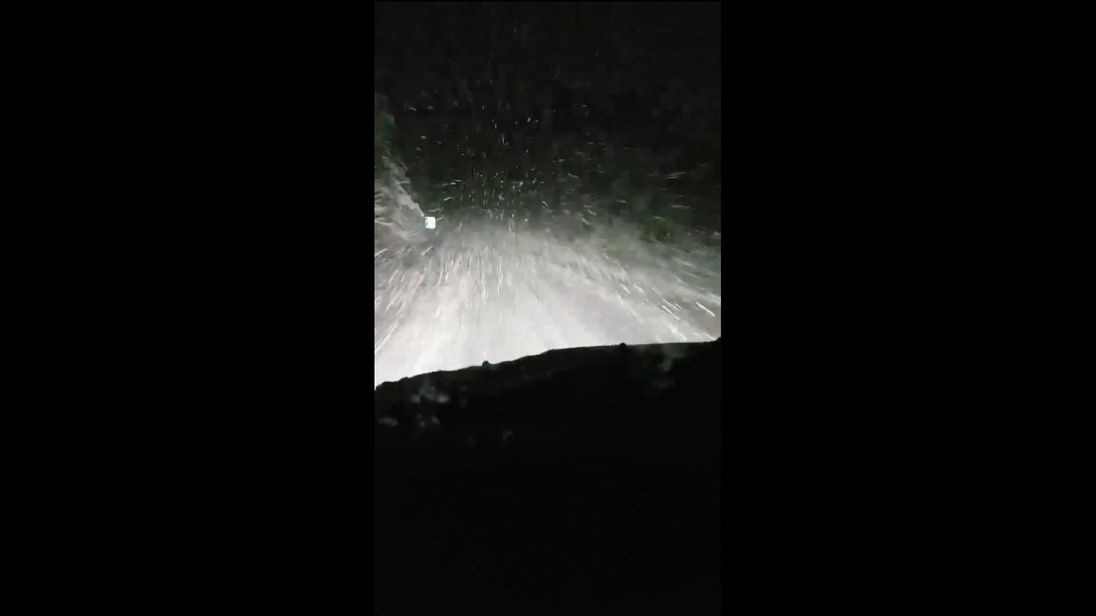 Siobhan Smith, who lives in Crouch End, north London, woke up to find her chimney pot had blown down in the night, damaging a car and causing an obstruction on the road.
She told Sky News: "The road outside has been cordoned off and police are managing the traffic. The fire service will be stabilising the building once the wind has died down."
More from Northern Ireland
Wednesday night's gales were caused by Storm David, which also sparked disruption around Europe.
Flights and trains were cancelled in the Netherlands, the port of Ghent was closed in Belgium and schools shut across Germany.