France's Macron Welcomes 'with Kindness' Reversing Brexit After Charm Offensive
LUDOVIC MARIN/AFP/Getty
byLiam Deacon18 Jan 20180
18 Jan, 201818 Jan, 2018
The French president h..
---
byLiam Deacon18 Jan 20180
The French president has continued his charm offensive in the UK ahead of migrant and Brexit talks with the prime minister, saying he would welcome Britain abandoning Brexit and staying in the European Union (EU).
A spokesman for Emmanuel Macron made the comments on the same day the president offered to loan the famous Bayeux Tapestry to Britain for the first time in more than 900 years.
Theresa May and Mr. Macron arrived at the Royal Military Academy Sandhurst in Berkshire earlier on Thursday for the Anglo-French summit, with Brexit and migrants top of the agenda.
"If tomorrow, or the day after, the United Kingdom decided to change its mind [about Brexit], it's clear that we would look at this with kindness," said a key aide, speaking on behalf of the French head of state on Wednesday.
"But it's not up to us if the United Kingdom wants to change its mind," the source added, according to Reuters.
The call came as it was reported that Theresa May is expected to announce the UK will accept more migrants from Calais and give an extra £44 million to policing them in Northern France.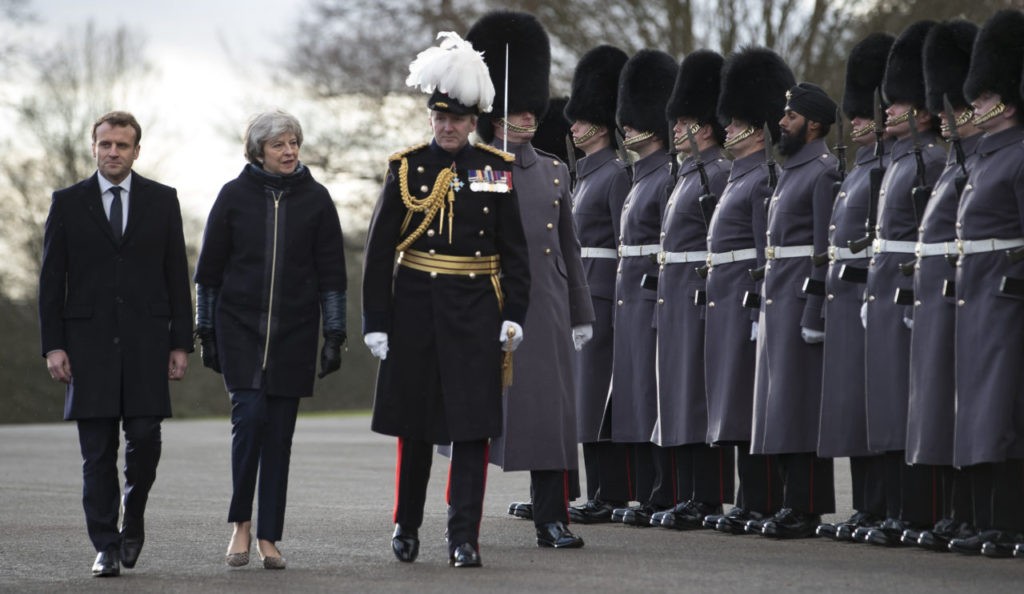 French President Emmanuel Macron and Britain's Prime Minister Theresa May review an honour guard at the Royal Military Academy Sandhurst, west of London on January 18, 2018. (IAN LANGSDON/AFP/Getty)
The British taxpayers' cash will be used to upgrade French border fences, surveillance equipment, and other devices intended to deter and detect illegal migrants.
Also this week, both European Commission chief Jean-Claude Juncker and European Council President Donald Tusk offered to keep the UK in the bloc despite the Brexit vote.
Speaking to the European Parliament on Wednesday, Mr. Juncker backed Mr. Tusk's earlier statement that Britain would be welcome to remain.
He said: "Mr. Tusk and I once again reached out to the British government yesterday and said that if the British people, the British parliament, the British government, wish for another way than Brexit, we would be prepared to discuss it.
"We are not throwing out the British, we want them to stay. And if they want to, they should be able to."
Former UKIP leader Nigel Farage MEP hit back Wednesday, slamming attempts to "overturn" and "frustrate" Brexit in the European Parliament.