Prince Harry and Meghan Markle visit Cardiff Castle
Media playback is unsupported on your device
Hundreds of people greeted Prince Harry and his fiance..
---
Hundreds of people greeted Prince Harry and his fiancee Meghan Markle at Cardiff Castle on their first official visit to Wales.
The couple arrived to huge cheers, an hour late after their train from London to Cardiff was delayed.
After meeting members of the public, they joined a festival celebrating Welsh culture inside the castle.
They later travelled to the Star Hub leisure centre in Tremorfa to see how sport helps disadvantaged children.
Royal fans inside the castle grounds brought balloons, flags and dogs to greet the couple, who arrived at about 14:20 GMT on Thursday.
Prince Harry apologised to those waiting for their late arrival, saying "blame the trains".
One woman told the prince he was getting married on her son's 18th birthday, to which he replied: "Really? That's exactly why we chose it."
Former actress Ms Markle added: "Congratulations to him too."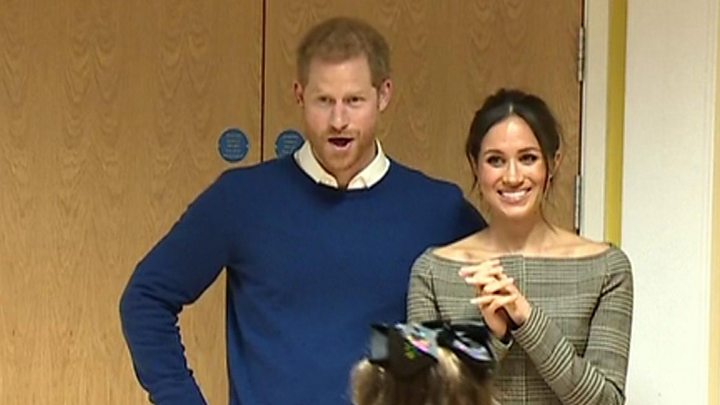 The prince also asked the crowd: "Are we mainly Welsh here?" As they cheered he gave a thumbs up.
As the couple met Anne Daley, 60, and her sister Judy, 53, of Llandaff, Cardiff, they were taken with their dog, Camilla, who was wearing a tiara and perched in a pushchair.
"Why are you shaking?" Prince Harry asked the dog. "Is it the excitement or are you freezing cold?"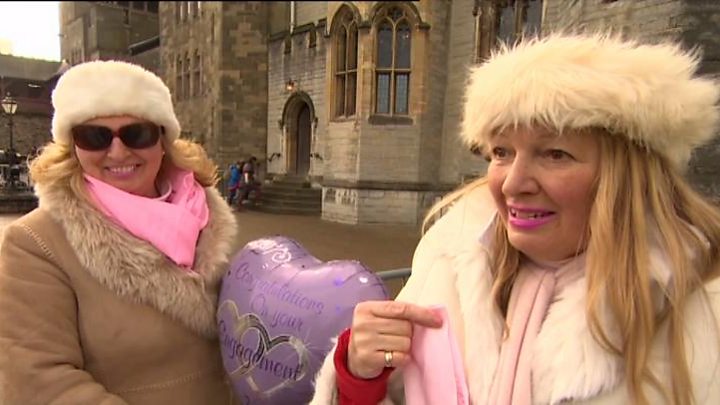 The couple also came across their namesakes, Megan Taylor, nine, and six-year-old Harry Smith, who presented them with a Welsh love spoon, an early wedding present from the people of Wales.
Ms Markle, who will marry the prince at St George's Chapel, Windsor Castle, on 19 May, said: "Oh my goodness, wow, it's beautiful, thank you very much."
As they went inside the castle for the celebration of Welsh culture, Prince Harry told his bride-to-be of his appreciation for Welsh singing.
"You are only going to hear the best singing in Wales," he said.
"At the Principality Stadium we have the best singing. People are in tune, which you can't say for most football stadiums."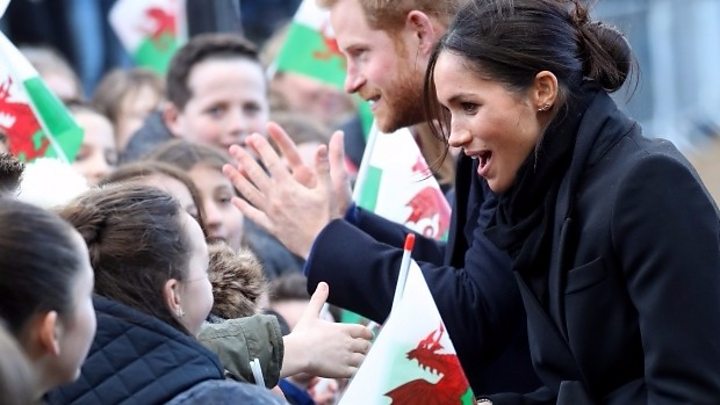 Ms Markle, wearing a pair of trousers by Cardigan-based The Hiut Denim Company, described the visit as "so exciting".
"I am so happy that we are here today," she said, in Cardiff Castle's stunning Arab room. "It is a beautiful space."
During the event, the pair heard performances from musicians and poets and met sportsmen and women, including adventurer Richard Parks, former Wales rugby player Scott Quinnell and Jonathan Ford, chief executive of the Football Association of Wales.
The couple ate traditional Welsh cakes and Ms Markle said: "Very good. Wow, it's great," before sampling a wedding cake made from Welsh cheese.
Prince Harry is taking his American bride-to-be on a tour of the UK's towns and cities in the months leading up to their wedding so he can introduce her to her new home.
His full title is Prince Henry of Wales – and Ms Markle could end up with a title linking her to Wales after the couple get married.
In the unlikely event the Queen does not give the prince a dukedom on the morning of his marriage, Ms Markle would become Princess Henry of Wales after saying her vows.
At the scene – Jonny Dymond, BBC royal correspondent
As the sun began to dip over Cardiff Castle, snow spat and the cold deepened. The loyalty of Harry'n'Meghan watchers was being tested.
The not-quite-yet-royal couple were meant to be doing a walkabout just before two in the afternoon. But even being almost-Royalty does not protect one from that most prosaic of frustrations, a signal failure at Didcot.
So by the time the show rolled into the castle's ground, the gathered children were singing to stay warm and the adults were maybe wondering quite why they had chosen this particular form of torture.
But the crowd's patience was rewarded; the couple lingered as they strolled, chatting and taking gifts, enquiringly earnestly as to how long people had waited, smiling and laughing.
It's fun – and easy – to be cynical about the whole thing; the flags being handed out, the dignitaries waiting nervously, the best laid plans being derailed by signal failures.
But the couple are charismatic crowd-pleasers. And there is serious intent in these visits – there's the grandeur of a place like Cardiff Castle and then the more down to earth stuff at a leisure centre, involving sport and youngsters and social mobility, the stuff Harry cares about and wants to highlight everywhere he goes.
Fans who gathered to meet the couple said their story was like a "fairytale".
Jenna Quilter, 18 from Creigiau, near Cardiff, said: "It's fascinating that she's not the typical person you'd expect to become a future duchess and it's just really interesting to see the public reaction to her."
Abbie Smith, who is visiting Cardiff from Louisiana in the US, said: "In America this is like a fairytale. I think it's really cool that she's from the States and gets to experience the royal lifestyle as well."
Haley Johnston, 26, from Charlotte, North Carolina, added: "I'm also from the States and I married a British soldier so we have a few things in common."
Later on Thursday, the couple had a private tour of Star Hub, where they saw how StreetGames, an organisation the prince has worked with previously, is helping to make sport accessible to disadvantaged young people.
Crowds waited outside the leisure centre in Tremorfa to see them.
Niusha Tabrizi, nine, wrote a welcome in Welsh for the pair and said she was keen to see Ms Markle.
"I want to see how she looks," she added.
Lataya Marden and Annalise Marshall, both 10, danced for the couple.
Annalise said: "It was fun and an exciting experience."
Lataya added: "I thought it was amazing getting to meet Harry and Meghan. I was nervous before but it was an amazing."
Grace Jones, nine, who also danced, said: "They asked how long have you been doing dancing. We shook hands with them. I was a little bit nervous but it was fun at the same time."