Zip wire attraction a 'significant hazard'
Controversial plans for a zip wire attraction in a Lake District valley could be scuppered by claims..
---
Controversial plans for a zip wire attraction in a Lake District valley could be scuppered by claims that low-flying fighter pilots would be put at risk if it goes ahead.
Several conservation groups including the National Trust have already objected to the £3m scheme to string wires 130m above Thirlmere reservoir to the south of Keswick and over a busy road.
The area is highly regarded because an unsuccessful fight in the 1870s to prevent Manchester Corporation from flooding the valley was one of the driving forces behind the birth of the conservation movement in the UK.
Developer Treetop Trek says the scheme complies with national park planning policy and would broaden the range of people enjoying the Lake District.
Their plans state the zip wires and a cycleway below would create 53 jobs and attract 127,000 visitors a year including hard-to-get youngsters.
But the Ministry of Defence claims the plans would cause a "significant hazard" and has submitted a formal objection.
A letter from the Defence Infrastructure Organisation states: "The Lake District is used by both experienced crews and students undertaking Basic Fast Jet Training, Advanced Flying Training and those from the Defence Helicopter School.
"[That] activity stands to be severely affected, with impacts recognised in safety, cost, efficiency and output."
A Cumbrian protest group called Zip Off has been campaigning against the scheme and has plans for a mass rally in the valley next weekend.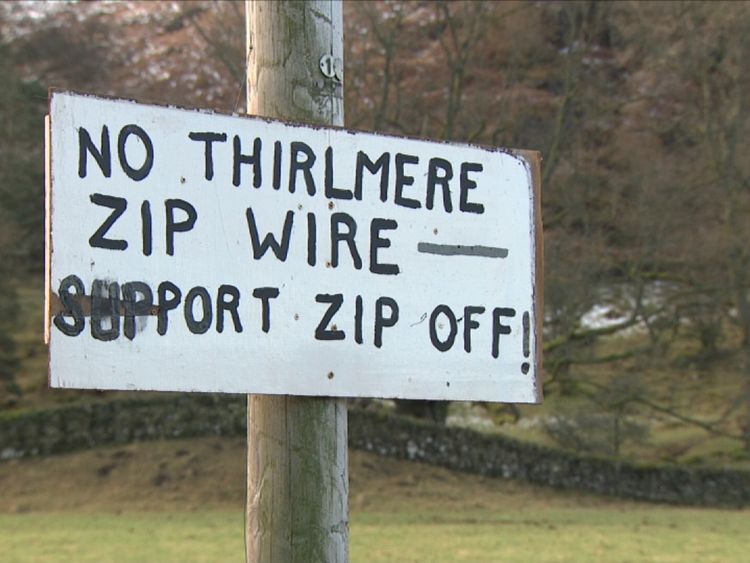 Campaigner and local film maker Terry Abraham believes the proposal goes against everything the area stands for.
"National parks were set up to protect, preserve and enhance these special special landscapes," he said.
"I just find it shocking, really audacious of Treetop Trek to think a theme park ride… would be appropriate in this location."
Mike Turner, the owner of Treetop Trek, said in a statement that the the MOD had previously stated that they would not be objecting to the project.
More from UK
"We are therefore very surprised by this apparent change in stance and are currently seeking their further clarification," he said.
The Lake District National Park Authority will provide an update on the scheme this week and say whether or not it will debate the proposal at its meeting next month.