'Hell-bent on having a step-mum': Jeff Brazier talks sons' delight at wedding
EDITORIAL USE ONLY. NO MERCHANDISING Mandatory Credit: Photo by Ken McKay/ITV/REX/Shutterstock (9408..
---
Jeff Brazier was on Loose Women this week, and talked his sons' excitement for his upcoming marriage to girlfriend Kate.
On whether she was up to the task of being step-mum to his two boys, Jeff was clear.
"It's a massive responsibility for Kate but she's been around us for four years now, she's perfect in that role."
It seems his sons agree two, as he said that his youngest son Freddie is "hell-bent on having a step-mum".
Fans on twitter were certainly impressed with what Jeff had to say, praising his parenting skills, as well as his important message…

We certainly can certainly agree with that!
Jeff was also vocal about urging people not to be shy about going to the doctors. Talking about his own experience going for a prostate exam, Jeff said he felt 'empowered' by the decision.
When asked if he feels the pressure more to look after himself because he is a single parent he responded, "It's heightened," explaining that people "owe it to [their] kids' to get checked, and keep themselves healthy."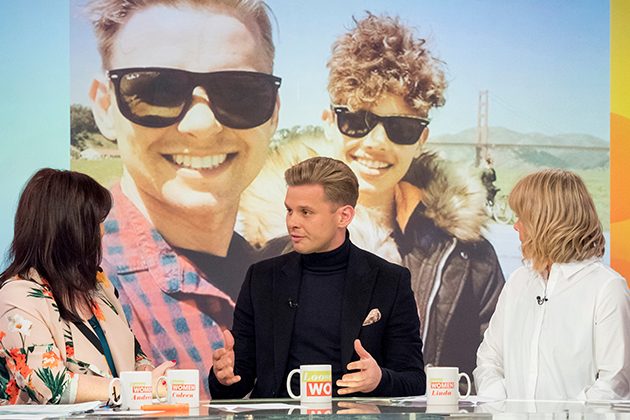 It comes as Jeff spoke to The Sun about his late wife Jade Goody, and how he feels her tragic death caused by cervical cancer could possibly have been avoided if she hadn't ignored the signs.
"Jade had warnings, she had letters from the doctors and in her mind she hoped that if she just ignored it, it would go away.
"We know how that ended up and I know as the father of the two children who were left behind that the last thing you want to do is bring two children into the world and then tell them they are going to have the rest of their childhood, from the age of four and five, without the most important person in their lives."
Talking about the fear many people have of finding something wrong, Jeff continued…
"In many cases it's needless, it's avoidable, so let's talk about this fear of bad news and put it into perspective.
"It might be difficult to go and have that smear or that prostate examination or whatever it is, but I tell you what is worse – having to tell your family that you're not going to be here anymore."
The post 'Hell-bent on having a step-mum': Jeff Brazier talks sons' delight at wedding appeared first on Woman Magazine.