US evangelist Reverend Billy Graham dies aged 99
US evangelist Reverend Billy Graham has died at his home in North Carolina at the age of 99, a spoke..
---
US evangelist Reverend Billy Graham has died at his home in North Carolina at the age of 99, a spokesman has said.
Mr Graham counselled presidents and preached to millions around the world from his native North Carolina during 70 years in the pulpit.
He died at around 8am EST (1pm GMT) at his home in Montreat, North Carolina, according to Jeremy Blume a spokesman for the Billy Graham Evangelistic Association.
He had been suffering from cancer and pneumonia, spokesman Mark DeMoss said.
Paying tribute, Donald Trump tweeted: "The GREAT Billy Graham is dead. There was nobody like him! He will be missed by Christians and all religions. A very special man."
According to his ministry, Mr Graham preached to more people than anyone else in history either in person or through TV shows and satellite links.
He was dubbed "America's pastor" and was a confidant of former presidents from General Dwight Eisenhower to George W Bush.
In 1983, President Reagan gave Mr Graham the Presidential Medal of Freedom, America's highest civilian honour.
He pioneered the use of prime-time telecasts, network radio, newspaper columns, evangelistic feature films and satellite TV links with his catch phrase "the Bible says".
Born on 7 November, 1918, on his family's dairy farm near Charlotte, Mr Graham came from a fundamentalist background.
But he rejected that view to join New Evangelicalism which abandoned the narrowness of fundamentalism to engage broader society.
He was ordained in 1939, after attending Florida Bible Institute, and founded the Billy Graham Evangelistic Association in 1950.
He became a rising star after a 1949 Los Angeles revival, when publisher William Randolph Hearst ordered his reporters to cover the new preacher who was speaking in a "canvas cathedral".
Mr Graham said he never found out why the reporters had been told to "hype" him.
Over the next few decades his crusades drew millions to hear him speak. In London, more than two million people came to listen during a 12-week campaign in 1954.
In New York, three years later, a six-week crusade had to be turned into 16 week crusade, including a rally in Times Square with more than 100,000 people in attendance.
Mr Graham and his wife Ruth Bell Graham had five children, two of which are also ministers now. His daughter Anne Graham Lotz is a Christian author and speaker and one son William Franklin Graham is now head of the BGEA.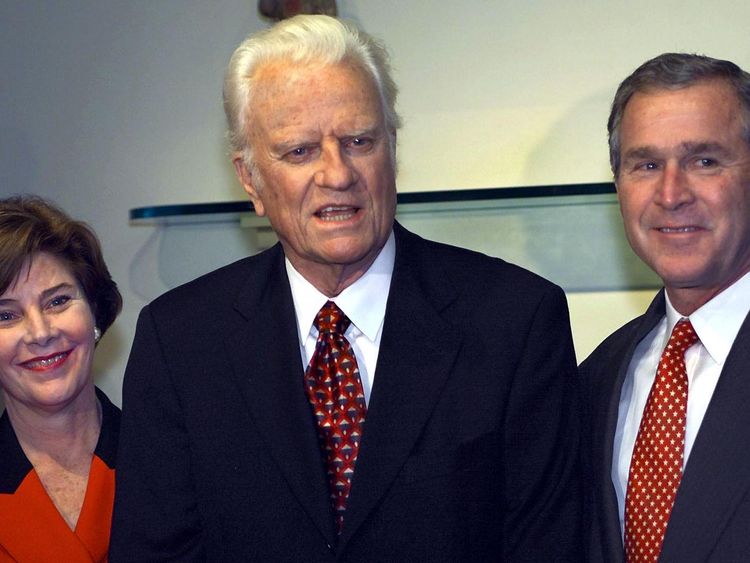 Mr Graham avoided any sex or money scandals by keeping meticulous watch over his staff and finances. He did come under fire for being too moderate during the civil rights movement, but ended segregated seating at his southern crusades in 1953, a year before the US Supreme Court ruled on it.
Vice President Mike Pence said: "Karen and I were saddened to learn of the passing of one of the greatest Americans of the century, Reverend Billy Graham. We send our deepest condolences to the Graham family.
More from US
"Billy Graham's ministry for the gospel of Jesus Christ and his matchless voice changed the lives of millions. We mourn his passing but I know with absolute certainty that today he heard those words, "well done good and faithful servant." Thank you Billy Graham. God bless you."
More follows…