'Beast from the East' set to bring heavy snow
Heavy snow is expected to hit most of the UK next week as a cold blast of air known as "the Beast fr..
---
Heavy snow is expected to hit most of the UK next week as a cold blast of air known as "the Beast from the East" arrives from Russia.
Forecasters say the freezing weather could bring travel disruption and power cuts as Britain faces its coldest February week in five years.
Severe weather warnings have been issued for England, Wales, Scotland and Northern Ireland, with snow showers forecast on Monday, Tuesday and Wednesday.
Temperatures are expected to drop close to -15C (5F) in places in the next few days, with the icy conditions predicted to last until the middle of March.
The Met Office said: "There is the potential for travel delays on roads, stranding of some vehicles and passengers, as well as delays or cancellations to rail and air travel.
"Some rural communities could become cut off. Power cuts may also occur and other services, such as mobile phones, may be affected."
A yellow "be aware" warning for snow has been issued for eastern and central England on Monday, which is extended to cover Scotland, parts of Wales and northern and southern England on Tuesday.
The warning covers most of the UK on Wednesday, with heavy snow showers forecast across the country.
Forecaster Marco Petagna said five to 10cm of snow is expected in places on Monday and Tuesday, while 10 to 15cm is predicted on Wednesday afternoon.
The mercury is expected to fall as low as -8C (46.4F) at night across the country, and close to -15C (5F) in some places, the Met Office said.
Daytime temperatures will remain in low single figures but may feel as cold as -11C (12.2F) with the wind chill, it added.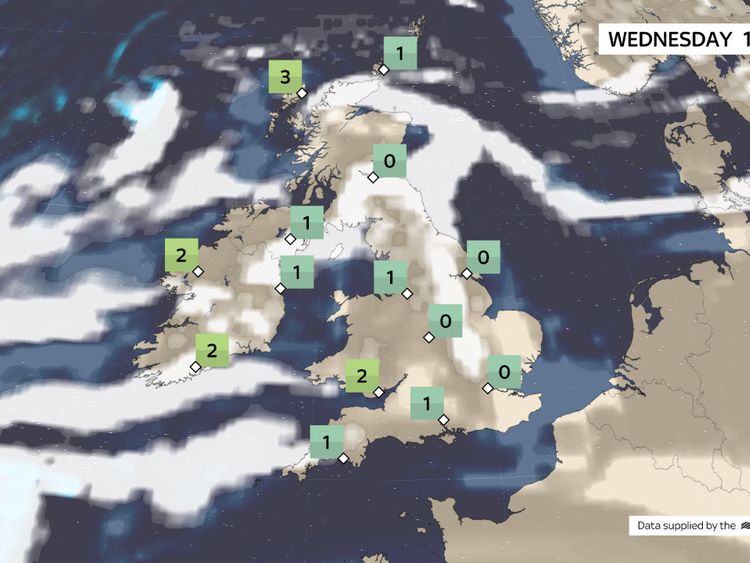 The Met Office has issued an amber cold weather alert for England – its second highest level – which warns of increased health risks to vulnerable and elderly people.
The AA urged drivers to take extra care and said it was mobilising extra resources for an increase in demand for help over the coming week.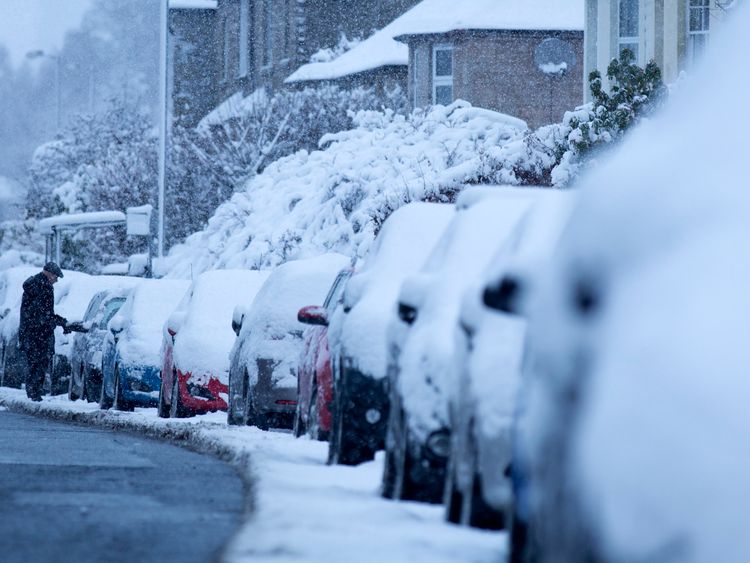 The prolonged spell of cold weather has been blamed on a rare North Pole phenomenon called "sudden stratospheric warming".
The event disrupted the polar vortex in the upper atmosphere, resulting in bitterly cold air sweeping in from Siberia, according to forecasters.
Sky News weather presenter Nazaneen Ghaffar said: "Easterly winds this coming week, otherwise known as 'the Beast from the East', will spread in bitterly cold air originating from western Russia, where temperatures there are currently as low as -23C (-9.4F).
"We're not expecting temperatures to fall that low for the UK and Ireland, but they will drop close to freezing during the day, and well below that overnight.
"The winds will also strengthen, so there will be a significant wind chill, making it feel much colder than the temperatures suggest.
"The brisk easterly winds will also spread through snow showers off the North Sea, which will initially affect eastern parts of the UK on Monday morning, but through the week the strong winds will spread them further west, so all areas will be at risk of seeing snow over the coming days.
More from Weather
"A more persistent area of snow also looks likely to move south-westwards across the UK on Tuesday giving significant accumulations, and towards the end of the working week central and southern areas may also be affected with another dumping of snow.
"So in summary, disruptive snow falls are likely just about anywhere this week, especially across southern and eastern areas."