Brain donation urged by Cardiff dementia research centre
Media playback is unsupported on your device
Older people in Wales are being urged to think about d..
---
Older people in Wales are being urged to think about donating their brains after they die to help scientists researching dementia.
Researchers at Cardiff University are not actively recruiting at the moment but are still keen to hear from people aged over 85 without a diagnosis.
While they also recruit donors with dementia as healthy brains are needed for comparisons.
Donor Ken Baxter, 75, said: "When I'm finished, it isn't any use to me."
Since 2009, 460 people in Wales have signed up, with 79 successful donations made to the Brains for Dementia Research project so far.
They are recruited through its team at the university, which is working to identify which genes contribute to a person's susceptibility to developing Alzheimer's disease.
It is hoped they will then be able to predict which people are more likely to get it.
But to do this they need to study human brain tissue, as looking at the distribution of protein deposits on the brain is the only way to get a definitive diagnosis of the disease.
While donors who have dementia often find out about brain donation from medical professionals, it can be harder to attract those with healthy brains.
You might also be interested in:
Mr Baxter is one such donor and decided to donate his brain after seeing how dementia affected a friend.
He saw it as a way to help others but admitted he does not always get a positive reaction to his plans.
He said: "'[People say] are you sure? It's not something I want to do'. And some people are horrified when you tell them – I can't see a reason why but a lot of people take it the wrong way.
"They think 'I've never thought of that' – but you're helping someone. If we can overcome these diseases, so much the better."
"When I'm finished with it [my brain], it isn't any use to me," he added.
Mr Baxter's wife Kate has mixed views on brain donation but supports her husband's decision.
She said: "It might surprise him [Ken] that I haven't totally ruled out that I won't do the same thing.
"It's obviously different from donating your liver or your kidneys because that's going to go to another person and will be used.
"The brain is going to be used but in a different way, it's not going to go into somebody's head and work again that way and I think that's probably, maybe, what could put people off."
How to donate your brain
Sign up in life – there is a 72-hour window for collection and wills are usually read days or weeks after death which means it is too late to donate
Register with your local brain bank
Tell your family of your plans so they know what to do when you die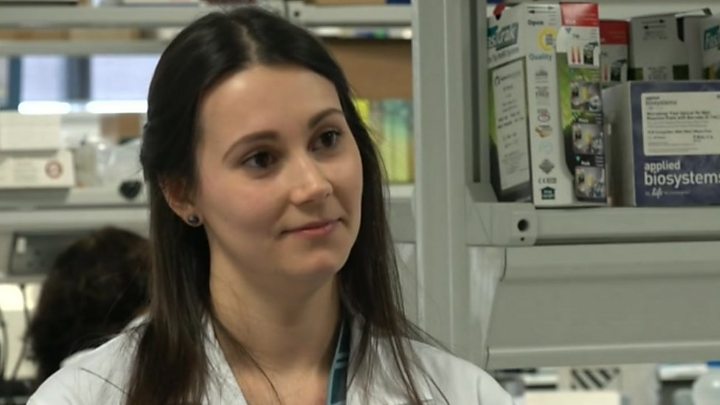 Rachel Marshall, research assistant at the university's Dementia Research Institute, said scientists realised it might not be an attractive prospect for all, but said it was a vital research tool.
"Research using brain tissue is really, really valuable. You can look at other research models, animal models, cell models but looking at the actual physical human tissue is invaluable," she said.
"At the moment what we are looking for is healthy individuals above the age of 85. They are of an interest at the moment to use as a comparison, to use as tissue.
"However, if brain donation isn't for you, you can always get involved in different [research] schemes," she added.
Unlike regular organ donation – where people in Wales are presumed to have consented to giving their organs unless they have opted out – those wishing to donate their brain have to make a specific request to do so.
Once they have been accepted, they are visited once a year to complete a cognitive assessment to test their memory.
Wales does not have its own brain bank so those donated by people in Wales are stored at King's College London until the team in Cardiff request samples.
When a donation is made, the brain is cut in half and half is frozen, while the other half is dissected and preserved on slides.
Samples can be kept indefinitely and many taken decades ago are still being used today.