Nadia Sawalha models vagina wig as menopause causes intimate hair loss
EDITORIAL USE ONLY. NO MERCHANDISING Mandatory Credit: Photo by Ken McKay/ITV/REX/Shutterstock (9434..
---
Nadia Sawalha is no stranger to honesty. The Loose Women star is known for her many confessions about her emotions, personal life and body image.
But this time, her confession came with a demonstration…
The ladies discussed a trend which had appeared at New York Fashion Week – the merkin.
Explaining that it is essentially a wig for your pubic region, Nadia pulled one from her jumper and gave a demonstration, saying "I quite like this idea."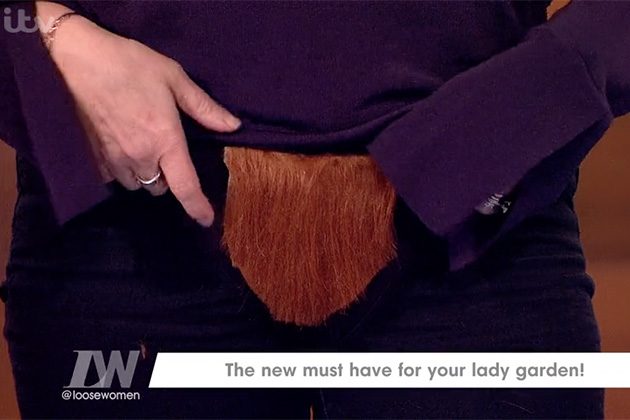 In between laughter, all of the panelists had differing views of the situation, with Coleen admitting that she feels sorry for men in modern dating having to deal with the many ways women choose to present themselves.
"You take your hair extensions out, your false eyelashes, your fillets out your bra and now a wig…down there!"
But Nadia, who has been open about her issues with hair loss, disagreed, "It is a post-menopausal thing, I mean I am in a combover situation now girls"
At which point Janet seemed to want to hush her co-star, shouting, "Oh no! Stick that merkin in her mouth!"
This is not the first time Nadia has admitted to struggling with balding. In a YouTube video titled 'My Hair Loss Confession', she admitted, "I used to have the most amazing hair. It was my crowning glory. It was my favourite thing about myself."
Having kids changed that for Nadia, "I lost a lot like a lot of new mums do but it started to change a lot, the texture…having gone from naturally curly hair. It would go frizzy.
"When I started going through Perimenopause [the very beginning of menopause], I think I lost a third of my hair."
She gave fans a closer look, "This is where it's balding. I'm losing it all over."
We can always rely on Nadia to give it to us straight!
The post Nadia Sawalha models vagina wig as menopause causes intimate hair loss appeared first on Woman Magazine.