Harry and Meghan consider their charitable future
Sky news understands that Prince Harry and Meghan Markle are looking closely at issues around youth ..
---
Sky news understands that Prince Harry and Meghan Markle are looking closely at issues around youth violence as they decide what charitable interests they will focus on as a married couple.
Representatives from The Royal Foundation confirmed they are now researching the work that's taking place in the UK to combat youth violence.
It comes after Harry and Meghan visited Reprezent, a radio station in Brixton that was set up in 2008 following a rise in knife crime, and met with young people and mentors from the Full Effect project in Nottingham which helps to keep young people out of gangs.
Kensington Palace has so far not announced what charitable causes Meghan wishes to focus on with her future husband. She gave up ties with World Vision and UN Women when they got engaged.
Later today Meghan will carry out her first official working engagement alongside her future in-laws.
She will join Prince Harry, and the Duke and Duchess of Cambridge at the first annual event to celebrate the success of The Royal Foundation, their charitable trust.
Speaking ahead of the event chief executive Lorraine Heggessey told Sky News it's significant that the four of them have chosen to promote their joint charity work together.
She said: "What's important to all three of their royal highnesses at the moment and Ms Meghan Markle is that this generation of the royal family is seen to work together collectively to make a difference and make a significant impact on the issues that matter both to them as individuals and matter to them collectively and to society.
"I think for Ms Markle she just naturally had synergy and you know understood that idea, it resonated with her and we're now researching, very early stages areas of interest and themes that might develop for her in the future".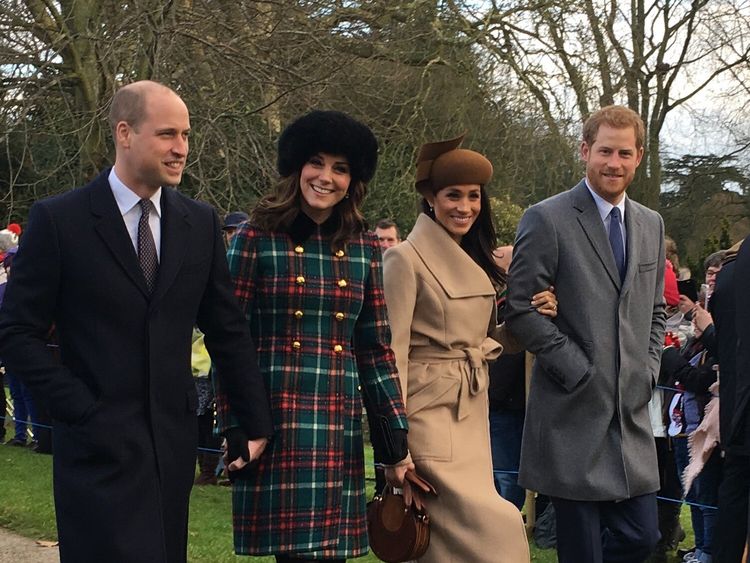 Under the theme 'Making a Difference Together,' the event held in the City of London will showcase some of the successes of the foundation including the Heads Together campaign, the Invictus Games, and United for Wildlife.
The royal foundation was launched in 2011 and acts as a charitable trust for William, Kate and Harry. Meghan will also become a patron when she gets married in May
Zoe Amar, a charity marketing and digital consultant says the younger royals are able to use their unique convening power to make a big impact on key social issues.
More from Meghan Markle
She said: "I think they are particularly significant and I think what's really exciting about the younger royals is that they're going out and identifying causes they're extremely passionate about and then working with charities in partnership and what I really think is an exciting step change is that they're using digital media to get the message out there."
At the event later the Duke and Duchess, Prince Harry and Meghan will appear on stage together to discuss why The Royal Foundation was set up, the projects they are currently working on, and their ambitions for the future.