Prince Harry and Meghan Markle lookalikes romp in steamy trailer for new drama – and royal fans are furious
Mandatory Credit: Photo by DAVID HARTLEY/REX/Shutterstock (9243897z) Prince Harry and Meghan Markle ..
---
Prince Harry and Meghan Markle lookalikes have romped in a steamy trailer for a new US drama about the engaged royals.
And now royal fans have been left furious at a 20-second trailer for Harry & Meghan: A Royal Romance, that's been released.
British actor Murray Fraser plays Prince Harry, while Parisa Fitz-Henley portrays former Suits actress Meghan.
The trailer shows the actors playing Harry and Meghan in the moment they actually get engaged.
Sitting on a sofa together, she says to him: "Tell me something real."
He replies: "I don't need my life to be this perfect royal picture, I just need you."
He then gets down on one knee and opens a ring box as Meghan covers her mouth with her hands in shock.
The couple are then seen kissing passionately and even lying in bed naked together in the trailer.
Thomas Mace-Archer-Mills, founder and chairman of the British Monarchist Society, told the Daily Star : 'Common decency has been violated.
'The scene showing the couple naked in bed is the ultimate appeal to those who are drawn in by such filth and perversion.'
The movie is set to be released on May 13, just six days before the couple tie the knot at Windsor Castle.
It will also feature portrayals of the Queen, Prince Charles and Camilla.
This movie comes just a month after a suspicious package was sent to Meghan at St James' Palace, in an incident which the police are treating as a 'racist hate crime'.
In the package, sent on 12th February, was a letter containing white powder. The letter sparked fears that the substance could be anthrax – an infectious powder which is potentially deadly.
Thankfully, the powder was found to be harmless. Detailing the incident, Scotland Yard said in a statment, 'Police are investigating after a package containing a substance was delivered to St James's Palace on Monday 12 February.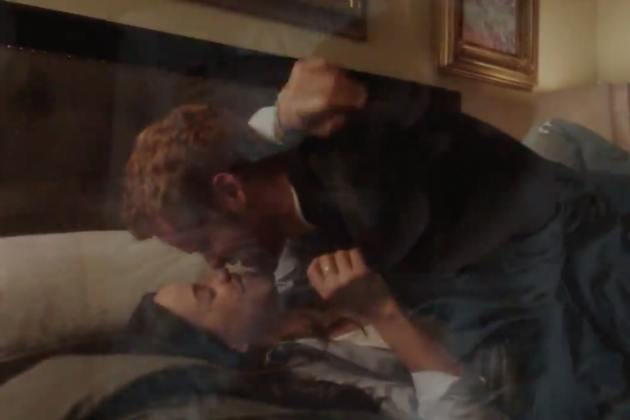 'The substance was tested and confirmed as non-suspicious. Officers are also investigating an allegation of malicious communications, which relates to the same package. No arrests; inquiries continue.'
However, the police have continued to reveal that a racist letter was also shared alongside the powder – meaning the delivery is now being treated as a racist crime against Meghan.
The letter is now being investigated by counter-terrorism police.
The post Prince Harry and Meghan Markle lookalikes romp in steamy trailer for new drama – and royal fans are furious appeared first on Woman Magazine.