Ant & Dec: Why Dec WON'T present without Ant by his side
Editorial Use Only. No merchandising Mandatory Credit: Photo by Kieron McCarron/REX/Shutterstock (94..
---
Declan Donnelly has said he won't appear on TV without his best pal Ant McPartlin following Ant's shock return to rehab and an arrest for suspicion of drink-driving.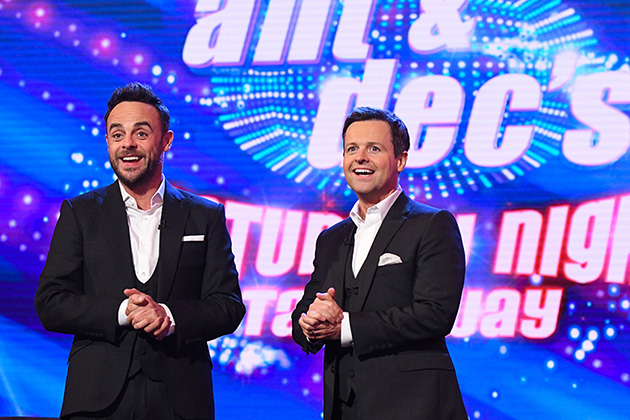 On Monday 19 March, news broke that Ant and Dec's Saturday Night Takeaway was to be cancelled for one week, with ITV undecided as to what to do with the final two episodes.
Fans questioned whether Dec would present alone, or alongside co-hosts like Scarlett Moffatt or Stephen Mulhern would take Ants place.
It's a sad time for all involved, especially the Ant and Dec fans around the country but back in 2010 the duo insisted "neither one of us would ever be on our own out there".
Writing in their autobiography, Ooh! What A Lovely Pair, Dec said: "We've been incredibly fortunate to have enjoyed such a remarkable time.
"Throughout it all, we've always had one constant that's kept us sane – each other.
"In two decades, we've never spent more than two weeks apart.
"Some people might not understand it but our friendship is a massive, massive part of where we are today."
The BFFs, who met on the set of Byker Grove back in 1990, have spent their entire careers together, with Ant writing at the time: "We made an agreement – whatever happened, we'd be mates forever, and neither one of us would ever be on our own out there.
"Sitting here today, that's as true as it's always been.
"If it all ended tomorrow, we'd still speak every day, we'd still see each other all the time and we'd still be best mates.
"And that's something we're both very proud of."
So will this agreement still stand? We guess only time will tell.
After the news broke that Ant had returned to rehab source told The Sun that Dec was left 'gutted'.
'He's just really upset about it all just on so many levels – gutted and worried about Ant obviously and devastated he's going back to rehab.
'But he's also worried about the future of Ant and Dec.'
What do you think Dec should do? Let us know.
The post Ant & Dec: Why Dec WON'T present without Ant by his side appeared first on Woman Magazine.