Cambridge Analytica: Facebook data row academic 'is scapegoat'
An academic who created an app which harvested data from 50 million users says he has been made "a s..
---
An academic who created an app which harvested data from 50 million users says he has been made "a scapegoat" for Facebook and Cambridge Analytica.
Dr Aleksandr Kogan completed work for Cambridge Analytica in 2014, but said he had no idea the data would be used to benefit Donald Trump's campaign.
The psychology academic said he wanted the data so he could model human behaviour through social media.
Facebook says Dr Kogan violated the site's policies.
The Cambridge University researcher developed a personality survey called This is Your Digital Life.
About 270,000 users' data was collected, but the app also collected some public data from users' friends.
Cambridge Analytica whistleblower Christopher Wylie said as a result the data of about 50 million users was harvested for the analysis firm.
The firm's chief executive Alexander Nix – who has since been suspended – was secretly recorded in a Channel 4 investigation saying the London-based company ran Donald Trump's digital campaign during the 2016 US election.
He said that the work the company did, including research, analytics and targeted campaigning, allowed the Republican candidate to win with a narrow margin of "40,000 votes" in three states.
"We did all the research, all the data, all the analytics, all the targeting, we ran all the digital campaign, the television campaign and our data informed all the strategy," he added.
Cambridge Analytica denies any wrong doing and on Monday said the executives had "entertained a series of ludicrous hypothetical scenarios" in order to "play along with this line of conversation, and partly to spare our 'client' from embarrassment".
'I'm stunned'
But Dr Kogan said the accuracy of the dataset had been "exaggerated" by Cambridge Analytica, and said the dataset was more likely to hurt Mr Trump's campaign.
A spokesperson for Facebook said the academic was not allowed to transfer data to Cambridge Analytica, a third-party who would use the set for commercial purposes.
They added that sharing users' friends data outside the app was also against Facebook's fundamental principles.
But Dr Kogan said he was following advice given to him by Cambridge Analytica, and added he had "no reason to doubt" that was breaking any policy with Facebook.
He said: "I'm honestly stunned by most of this, this has never been my understanding.
"The events of the past week have been a total shell shock, and my view is that I'm being basically used as a scapegoat by both Facebook and Cambridge Analytica when… we thought we were doing something that was really normal.
"We were assured by Cambridge Analytica that everything was perfectly legal and within the terms of service."
On Tuesday a Cambridge University spokesperson said they had "sought and received assurances" from Dr Kogan that no University data, resources or facilities were used for his work and they had found no evidence to contradict that, but were writing to Facebook to "request all relevant evidence in their possession".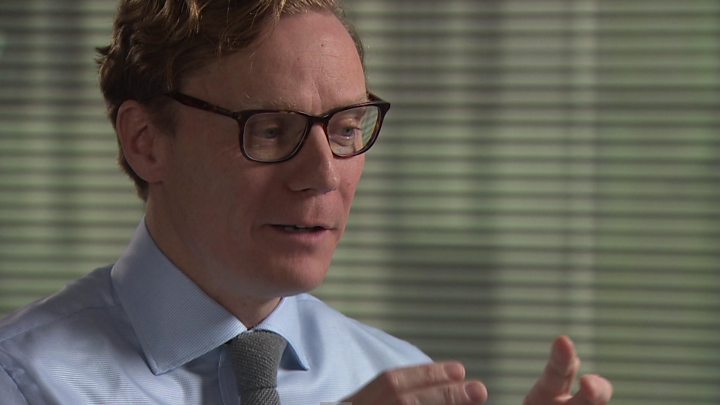 Before Channel 4 News had broadcast any of the secret filming, Mr Nix told the BBC's Newsnight programme he felt the firm had been "deliberately entrapped".
There have now been calls for an investigation into the work Cambridge Analytica carried out during the 2013 election in Kenya.
On Tuesday a parliamentary committee called for Facebook CEO Mark Zuckerberg to give evidence about the use of personal data by Cambridge Analytica. Facebook has also denied any wrongdoing.
Damian Collins, the chairman of the Commons inquiry into fake news, accused Facebook of "misleading" the committee previously, and said it was "now time to hear from a senior Facebook executive with the sufficient authority to give an accurate account of this catastrophic failure of process".
Facebook shares fell by a further 5% on Tuesday, following a 6.7% drop on Monday, meaning that in total, about $50bn has been wiped from its market value.
The UK's Information Commissioner Elizabeth Denham said she would be applying to court for a warrant to search the offices of Cambridge Analytica.
The consumer watchdog the US Federal Trade Commission – which has the power to levy large fines – has also reportedly opened an investigation into Facebook.