Russia slams UK's Boris Johnson for comparing Putin with Hitler
"This is a completely disgusting statement and it does not fit the foreign minister of the country, ..
---
"This is a completely disgusting statement and it does not fit the foreign minister of the country, of any country," Kremlin spokesman Dmitry Peskov told reporters. "Undoubtedly, it is offensive and unacceptable."Relations between London and Moscow have sunk to a new low over British claims that the Kremlin was behind the poisoning on March 4 of former Russian double agent Sergei Skripal and his daughter Yulia in the English city of Salisbury. Russia denies any involvement.Johnson's comments were made Wednesday at a meeting of Britain's Foreign Affairs Select Committee, when he agreed with a lawmaker's suggestion that Russian President Vladimir Putin intended to use the World Cup as a "PR exercise" to gloss over a "brutal, corrupt regime" in the same way that Hitler promoted the 1936 Olympics."I think the comparison with 1936 is certainly right," Johnson said. "I think it's an emetic prospect, frankly, to think of Putin glorying in this sporting event."Amid the worsening diplomatic dispute, UK Prime Minister Theresa May will tell a summit of European Union leaders in Brussels later Thursday that the bloc must stand united against Russia and its threat to European democracies, a Downing Street spokesman said.May will tell the leaders that the nerve agent attack in Salisbury shows that Moscow does not respect international law.France, Germany and the United States signed a joint statement last week condemning the poisoning as "an assault on UK sovereignty" and saying there was "no plausible alternative explanation" than that Russia was responsible.Russia's ambassador to the United Kingdom, Alexander Yakovenko, is expected to give a news conference Thursday in which he will address the Skripal allegations.Russia insists it is ready to cooperate with Britain in investigating the attack on the Skripals but says the UK authorities have refused to share information.
Johnson: Timing 'connected' to Russian election
Twenty-three Russian diplomats left Britain on Tuesday after they were expelled in response to the Salisbury attack. Moscow has ordered the tit-for-tat expulsion from Russia of 23 British envoys and also closed down the British Council, a cultural institute.Meanwhile, Sergei Skripal, 66, and his 33-year-old daughter remain critically ill in the hospital. A British police officer also fell ill from exposure to the substance, which British officials believe was the military-grade nerve agent Novichok.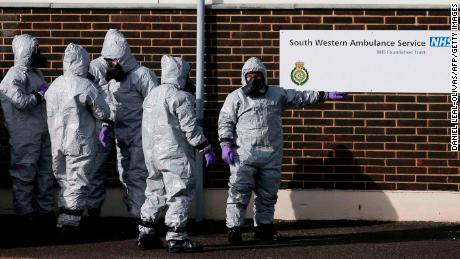 Experts from the Organisation for the Prohibition of Chemical Weapons have arrived in the UK to investigate the use of the substance, on May's invitation.Speaking Wednesday, Johnson said he believed the timing of the attack was "probably more closely connected with the recent election in Russia," which was overwhelmingly won by Putin."As many non-democratic figures do when facing an election, or facing some critical political moment, it is often attractive to conjure up in the public imagination the notion of an enemy. And that is what I think it was, an attempt to excite amongst the Russian electorate," he said.Johnson insisted there was no desire to "engage in a new Cold War" with Russia. The UK still held out the hand of friendship to the Russian people, he said, "because our quarrel is emphatically not with them. Our quarrel is not with the Russians. It is with Putin's Kremlin."Johnson said Sunday that Britain had information showing Russia was "producing and stockpiling quantities of Novichok," in violation of the Chemical Weapons Convention. He had previously said it was "overwhelmingly likely" that Putin personally gave the order to use the nerve agent against Sergei Skripal.The Russian Foreign Ministry on Wednesday invited foreign ambassadors to a briefing in Moscow at which it reiterated its denial of involvement in the Skripal poisoning and raised questions over the UK authorities' actions. The UK and US declined the invitation.US State Department spokeswoman Heather Nauert said the two nations were right not to send their ambassadors to hear "implausible denials." In response, the Russian embassy in Washington said Thursday that the Americans had "decided to put all their eggs in one British basket," and urged an end to the "demonizing" of Russia. "It is high time to stop blaming us for every sin," read the embassy statement.
CNN's Hande Atay Alam, Radina Gigova, Nada Bashir and Livvy Doherty contributed to this report.
Original Article