Nobel Peace Prize for Trump over N Korea?
On the surface, it sounds like a historic commitment by Pyongyang – and one that was unthinkable mon..
---
On the surface, it sounds like a historic commitment by Pyongyang – and one that was unthinkable months ago.
Kim Jong Un's vow to freeze North Korea's nuclear and missile tests seemed to take the US President off guard.
As the news broke, he was tweeting about the Democratic National Committee trying to sue his campaign – not Pyongyang.
But minutes later, came an inevitable tweet: "This is very good news for North Korea and the world – big progress. Look forward to our Summit."
It is also good news for the White House – a chance to try and claim some credit in what has proved to be an intractable problem.
:: Kim Jong Un promises no more nuclear or missile tests
Now, we are facing the very real possibility that Donald Trump will meet Mr Kim, possibly by late May. A drastic about turn from two mercurial leaders who exchanged "dotard" and "rocket man" insults.
Each administration has tried to get to this place and North Korea has reneged.
Has Mr Trump managed to achieve what his predecessors couldn't and in the process, secure a unlikely place in the diplomatic hall of fame? It is too early to tell of course.
But, the fact his top spymaster, Mike Pompeo, secretly managed to meet face-to-face with Mr Kim does seem to have helped pave the way for something potentially monumental.
At very least, North Korea's seeming willingness to close down its nuclear operations looks like a confidence-building measure by Pyongyang to prove to America and South Korea that is is willing to negotiate.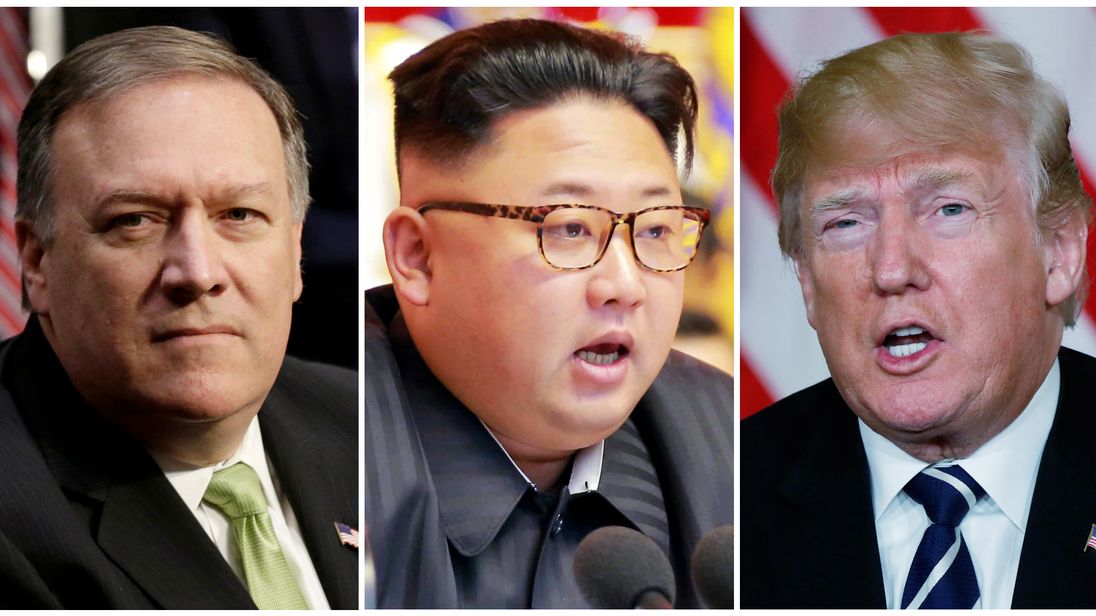 Mr Trump has always spoken optimistically about the prospect of North Korea giving up its nuclear weapons. Now, the mood music ahead of the a summit with the South is positive.
There are plenty of questions and caveats though. Will North Korea break its promise? Why is it willing to stop now? Has it done all it needs to consolidate its nuclear capabilities? What is America and South Korea willing to give up in exchange? Will they end military exercises (which they carried out only this week)? What assurances will they give?
There have been some key milestones along the way – from Mr Kim's outreach to South Korea in his new year's address, to the diplomatic thaw in relations at the Winter Olympics. That was rich in symbolism. So is tonight's news.
Mr Trump has something to brag about now. It's an important first step, and was quite possibly a condition laid out by the Trump administration before any possible meeting.
But trust is everything and it's a precious commodity when it comes to communication between the US and Pyongyang. The US will need to verify Mr Kim's claims and how can it be sure the regime isn't secretly stockpiling weapons?
Mr Trump has already issued a caveat, declaring that if a meeting with Mr Kim doesn't go well, he'll leave. Mr Pompeo returned without any clear concessions from Pyongyang. But is America now seeing the benefits of his clandestine trip?
People may balk at the idea of a Nobel Peace Prize for Donald Trump, but privately White House insiders tell me he believes he can draw a line under the unending tensions on the Korean Peninsula and see it as a chance to become one of the "great men" of history.
More from Donald Trump
Many people may be sceptical about that. But one thing is for certain, from "fire and fury" to a promise from Mr Kim to freeze its nuclear programme, both men are masters of surprise.
Now it's down to the sticky detail. It's a high stakes gamble and Pyongyang's dictator has far less to lose.