Royal baby news: crowds gather outside Lindo Wing in anticipation of Duchess of Cambridge giving birth
Mandatory Credit: Photo by Paul Grover/REX/Shutterstock (9488728u) Prince William and Catherine Duch..
---
As Royal baby fever continues to hit the nation, fans have started to set up camp outside the hospital where the Duchess of Cambridge is due to give birth.
In anticipation of Kate Middleton and Prince William welcoming their third child (which could be any day now), die-hard royalists have gone to extreme lengths to be the first to know.
Not only have they been on hospital watch since last week, but some have even been camping at the Lindo Wing of St. Marys in London where Kate previously gave birth to Prince George and Princess Charlotte.
And proving that their dedicated to the cause, the fans have draped themselves in flags and royal memorabilia.
While others have even made giant signs welcoming the newest royal baby into the world…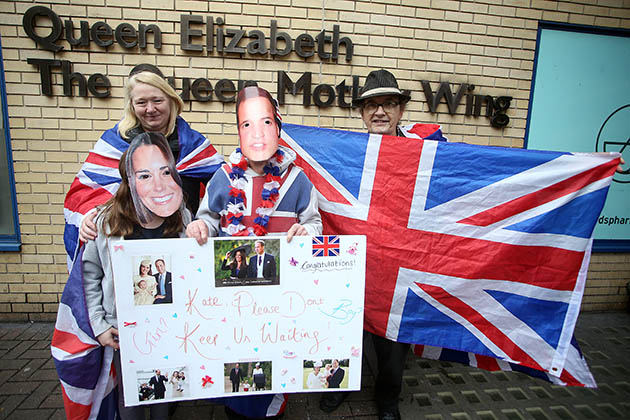 And it looks like the hardcore fans are desperate for Kate to give birth this weekend as one camper, John, 63, from Streatham, told The Mirror: "It would be nice if its born on the Queens birthday!" – which is TODAY (Saturday 21st April).
Although no specific date has been officially given as a due date, royal reporters have long been speculating that Kate will give birth around the 23rd April. So we could be welcoming the royal baby VERY soon.
In an announcement on Kensignton Palaces Twitter page last year, it was also revealed: "The Duke and Duchess of Cambridge are delighted to confirm they are expecting a baby in April 2018."
Speculation has continued to build as its recently been reported that the Duchess has returned to the Palace in London – after a short break at her Norfolk home – which is just a six minute drive from St Marys Hospital.
And if Kate gives birth this weekend her third royal baby will arrive just days before Princess Charlottes third birthday, on 2nd May and only a few weeks prior to brother-in-law Harrys upcoming wedding to Meghan Markle.
What an exciting time for the royals!
The post Royal baby news: crowds gather outside Lindo Wing in anticipation of Duchess of Cambridge giving birth appeared first on Woman Magazine.