Nashville gunman was held for trespassing near White House
The suspect in a shooting at a restaurant in Nashville was arrested last year for being in a restric..
---
The suspect in a shooting at a restaurant in Nashville was arrested last year for being in a restricted area near the White House.
Travis Reinking, of Morton, Illinois, was held for unlawful entry after crossing into a protective area near the complex in July 2017.
He had been asked to leave but was arrested after he refused, said Todd Hudson, Special Agent in Charge of the US Secret Service, Nashville Field Office.
Reinking, 29, had his firearms authorisation revoked at the request of the FBI and four weapons were seized from him, including the AR-15 assault rifle he allegedly used to kill four people at the Waffle House in the early hours of Sunday.
The guns had been returned to his father, who had acknowledged giving them back to his son. No other action appears to have been taken.
Reinking is still at large after the Waffle House shooting and two of his guns are still unaccounted for, meaning he may have them with him.
Meanwhile, another 29-year-old – James Shaw Jr – has been praised as a hero after grabbing the weapon used by Reinking in the restaurant.
He told reporters that he had heard gunshots but at first thought the noise was due to a stack of plates falling over.
When he saw restaurant workers scatter and the gunman come through the door, however, he realised what was happening.
"I jumped and slid from the table top to the entrance of the door and I think he let off some shots through the glass.
"When he proceeded to come in, I went behind the swivel door and he shot through that door and I'm pretty sure he grazed my arm.
"I made up my mind that if it was going to come down to it, he was going to have to work to kill me.
"When he re-loaded, I ran through the swivel door and I hit him with the swivel door…got one hand on the gun, grabbed it from him and threw it on the countertop."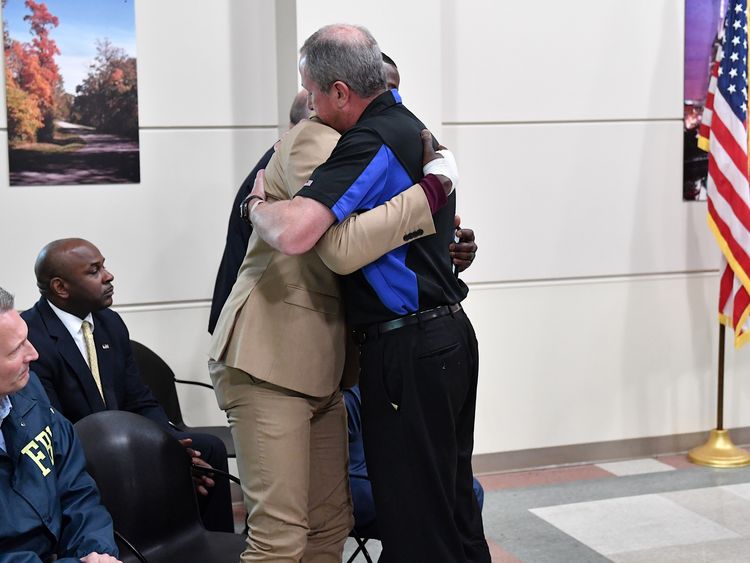 Reinking fled the scene but Mr Shaw was thanked by city officials and representatives of the restaurant chain for preventing him from killing more people.
Walt Ehmer, Waffle House president and chief executive, said: "You don't get to meet many heroes in life but you're a hero. You're my hero."
Mr Shaw, who works for a telecoms company and has a four-year-old daughter, said later he was no "Terminator or Superman".
"I'm not a hero, I'm just a regular person," he said.
"I think anybody could have done what I did if they are pushed in that kind of cage.
"You have to either react, or you're going to fold, and I chose to react because I didn't see any other way of me living – and that's all I wanted to do."
The gunman entered the Waffle House restaurant shortly before 3.30am local time. Police said he "was nude and fled on foot."
The suspect was wearing nothing but a green jacket, which he removed before fleeing.
BREAKING: Travis Reinking, 29, of Morton, IL, is person of interest in Waffle House shooting. Vehicle the gunman arrived in is registered to him. Gunman last seen walking south on Murfreesboro Pike. He shed is coat and is nude. See Reinking? Pls call 615-862-8600 immediately. pic.twitter.com/duoWCo5fC0

— Metro Nashville PD (@MNPDNashville) 22 April 2018
AR-15 assault rifles are commonly used in mass shootings in America.
More from US
The same gun was used by Nikolas Cruz who opened fire at a Florida school killing 17 people in February.
Stephen Paddock also used the same rifle to kill at least 59 people attending a concert from his hotel window in Las Vegas in October 2017.