Fresh quakes as volcanic eruption rumbles on
Fresh earthquakes have hit Hawaii's Big Island, where a volcanic eruption has forced more than ..
---
Fresh earthquakes have hit Hawaii's Big Island, where a volcanic eruption has forced more than 1,700 people from their homes.
The latest series of earthquakes began on Thursday with a 4.6 magnitude quake, which shook the island's active volcano Kilauea.
The volcano has been spewing ash and lava, while the earthquakes have also strengthened – the latest being a 6.9 on Friday afternoon, the largest to strike the area since a 7.5 earthquake rocked the island in 1975.
Scientists are investigating whether the earthquakes are affecting the eruption of Kilauea.
Lava flows from the volcano have covered 48 square miles, some of it in residential areas, although no injuries or deaths have been reported. Two homes have been burned down.
The lava can reach temperatures of around 1,150C but some residents were taking the dangers in their stride, used to life on an island which has five active volcanoes.
Keone Kalawe, 58, who is volunteering at an evacuation centre in Pahoa, described the latest quake as "just part of life over here".
Regarding the lava, he said: "I tell people – you just have to sidestep."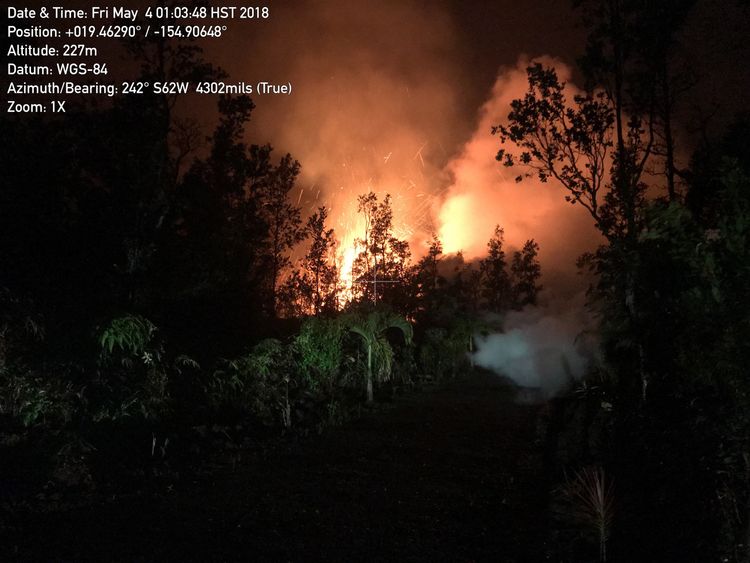 One of the other concerns, however, is the high level of sulphur dioxide gas near the volcano, a major reason behind the evacuation orders.
Dr Janine Krippner, volcanologist at Concord University in West Virginia, told Sky News: "It's pretty much impossible at this time to tell how long this might go on for – specific fissures might stop or start with no warning.
"Unfortunately these fissures have opened up right inside an area where people are living, so the biggest risk right now is inundation of lava in people's homes…and the gases themselves can cause quite a bit of respiratory distress."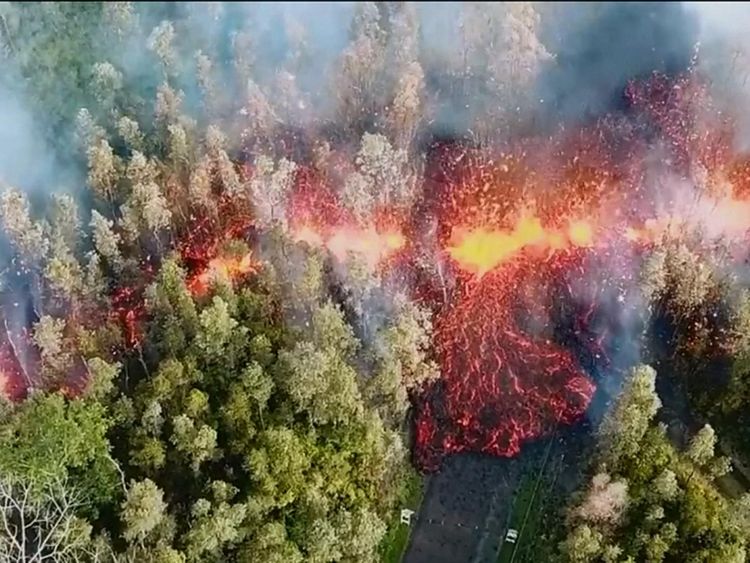 When asked what evacuated residents might return to after the danger has passed, she said: "Unfortunately with lava flows, sometimes you can't just move back.
More from Hawaii
"It depends how much lava comes out – there have been communities which have been completely displaced in the past.
"We really just have to wait and see and hope that people come out with their homes in tact."