A Russian citizen is facing further charges after being accused of infiltrating political groups in America.
Maria Butina has been charged with acting as an agent of the Russian government, in new allegations brought forward by the US justice department.
She appeared in court on Tuesday after being arrested on 15 July, where she was also charged with infiltrating US political organisations at the direction of a senior Kremlin official.
The US justice department said in a statement that the 29-year-old is accused of working "at the direction of a high-level official in the Russian government who was previously a member of the legislature of the Russian Federation and later became a top official at the Russian Central Bank".
This took place "from as early as 2015 and continuing through at least February 2017", the statement said.
It said the official was sanctioned by the US treasury department's office of foreign assets control in April this year.
The justice department says Butina allegedly entered and resided in the US on a student visa without officially disclosing the fact that she was acting as an agent of Russian government, as required by law.
The maximum penalty for conspiracy is five years.
One of the agencies Butina is accused of infiltrating is the National Rifle Association (NRA), a strong ally of the Republican party.
Igor Shmelev, who heads the Right to Bear Arms group which Butina established, has told Sky News he wants to intervene and secure her release.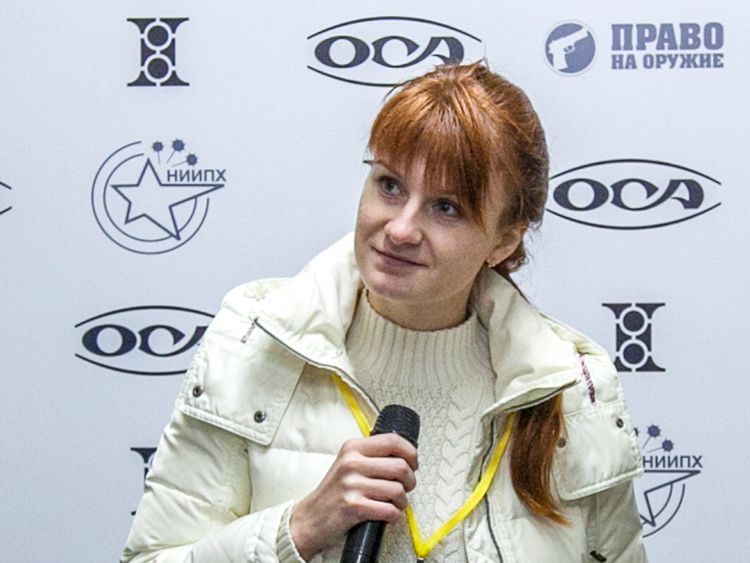 He said: "We're relying on Russia's foreign ministry and on her lawyer who have already said that she is innocent.
"She is smart, intelligent, she is a leader. But one of her main rules always was to abide by the law.
"She has never advocated breaking the law during her activities in Russia."
More from Russia
Butina is also understood to be facing a bail hearing on 18 July.
She studied at the American University in Washington, DC.