The entire fleet of F-35 stealth jets is to be checked for a fault following a crash in the US last month.
The post-crash investigation, carried out after a plane came down in South Carolina, identified a faulty fuel tube.
As a result the global fleet is on an "operational pause".
Each £150m aircraft must now be checked before being cleared to fly again – with each check taking up to six hours.
It is a hugely embarrassing turn of events for the programme and has been described to Sky News by a senior defence industry source as a "cock up of epic proportions".
In a statement, F-35 programme spokesman Joe DellaVedova said the checks should be complete by the end of the week, adding: "If suspect fuel tubes are installed, the part will be removed and replaced.
"If known good fuel tubes are already installed, then those aircraft will be returned to flight status.
"Inspections are expected to be completed within the next 24 to 48 hours."
Depending on how many aircraft are affected, the future progress of the programme – which is already the most expensive in history – could be in jeopardy.
The programme is led by the Pentagon but Britain is its only tier one partner.
Britain has 16 F-35B jets and has pledged to buy 138 in total.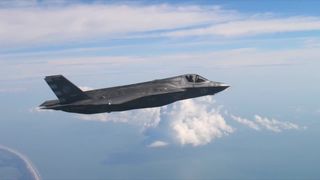 The faulty part is believed to have been made by US engine manufacturer Pratt & Whitney.
Pratt & Whitney would only say in a statement that they are "supporting the US Marine Corp investigation into the incident".
The Royal Navy has told Sky News that one of the F-35s onboard the new aircraft carrier HMS Queen Elizabeth has been checked and is flying again.
The F-35s stationed at RAF Marham in Norfolk are yet to be checked but are not due to fly this week.
"Safety is our paramount concern, therefore the UK has decided to pause some F-35 flying as a precautionary measure while we consider the findings of an ongoing enquiry," an MoD spokesman said.
"F-35 flight trials from the aircraft carrier, HMS Queen Elizabeth, are continuing and the programme remains on schedule to provide our armed forces with a game-changing capability.
"We will continue to review the situation as further information becomes available."
More from UK
The first F-35B jets only landed on HMS Queen Elizabeth last month.
They are now in a period of flight trials off the east coast of the US.