Kate Garraway shocked her co-stars when she made a rather cheeky comment about her underwear during todays of Good Morning Britain.
The 51-year-old is known for keeping things very professional on the morning telly show, but confessed to viewers that she actually leaves her knickers lying around everywhere in the studio.
Chatting with former contestant Iain Lee, the pair discussed a clip from last nights Im A Celebrity… Get Me Out Of Here! which saw Nick Knowles say he didnt want to handle the womens underwear whilst doing the laundry.
Kates co-presenter Susanna Reid, 47, asked, "Is he trying to be chivalrous?"
Read More: GMB star Kate Garraway STUNS as she shows off incredible figure in plunging jumpsuit on the red carpet
Iain then said he didnt mind handling peoples smalls when he was in the jungle back in 2017.
Talking about his Coronation Street star campmate Jennie McAlpine, the 45-year-old revealed, "I used to dry her knickers with a stick over the fire."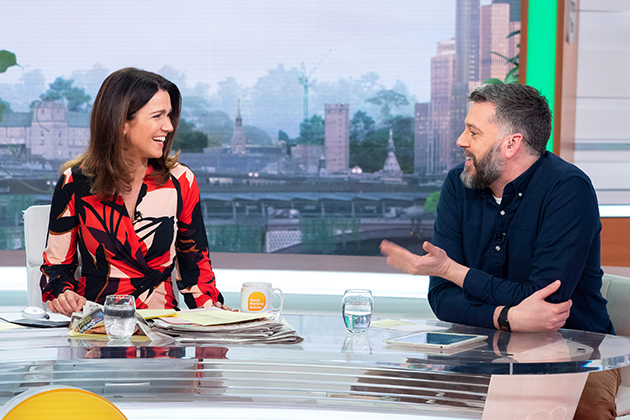 To which Kate said, "He has no choice, I leave them everywhere."
Ben, 43, then hit back, "Kates big pants and I have an intimate relationship."
Kate added, "Thats not what it sounds like." Ooo er!
The GMB stars werent the only ones stuck on the topic of underwear, as Lorraine also made her own cheeky confession later on in the show.
When Ben asked about her husband, Lorraine confessed, "Can I just say I wouldnt leave my smalls on the floor? Im not a man. Men do it all the time."
"Do you pick up your husbands smalls or do you leave them to him?" Susanna asked.
"No, Ill do anything for my Steve hes very well trained. He puts them in the laundry basket. Its taken years but he does do it now," the telly star explained.
Ben then cheekily added, "I seem to remember you dont like him wearing smalls."
Well, that escalated quickly!
The post Kate Garraway makes VERY cheeky underwear confession live on Good Morning Britain appeared first on Woman Magazine.